In Dream Chaser (Dream Team #2) by Kristen Ashley, Ryn Jansen knows she's the kind of woman who can take pretty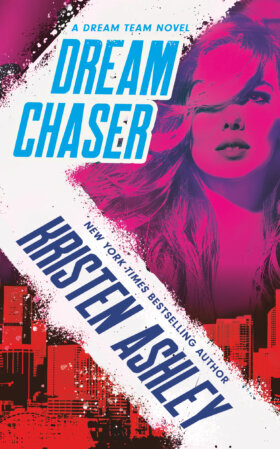 much anything life hands her and keep on going. Lord knows she's been doing that since she was a kid. But in the back of her mind, Ryn hopes to one day have a man in her life strong enough and caring enough to want to go to battle for her. She has a feeling that Boone Sadler is just that guy. But she's not sure she's willing to bet everything on a commando with his own demons and a dangerous job. Although, Boone proves to Ryn time and time again that he can be trusted. Including when she finds out her family is doing her dirty. And when someone targets her in a deadly game with a crime boss. But will Boone really stick around when things get tough? Or will he be one more guy to break Ryn's heart and do her wrong?
"I want to take you out to dinner. I want to take you to my bed. And eventually, I wanna tie you to it. And I'm used to getting what I want."
My toes curled.
Boone has had his sight set on Ryn for some time now but she's not making it easy. Not that he'd expect anything less from the gorgeous, sassy woman. But he'll do his best to put in the effort and show her that he means it when he says he wants to see where things could go between them. Boone has a chance to prove his intentions when Ryn comes under fire and needs the covert type of protection only he and some of his buddies can provide. And in the meantime, it will give Boone a chance to get to know the real Ryn. The vulnerable side she hides deep from everyone. He knows he might make a few missteps along the way, but Boone aims to be there for Ryn in every possible way.
'We weren't dark and light, fitting perfectly.
We both had our dark.
We both had our light.
We just fit.
Perfectly.'
Kristen Ashley's newest exciting Dream Team novel, Dream Chaser, had me so hooked that I blazed through the pages and still wanted more of the perfection that was Ryn and Boone's fiery romance.
'But no matter how new we were, deep down, I knew we were special. I knew he was important. I knew this was *way* meaningful, what we'd just begun to build.'
KA always, *always* writes a kickass story. But there's something rather magical about this Rock Chick/Dream Man spinoff series–and it only seems to be getting better with each new couple. I don't think I'm alone in falling head over heels for KA's heroes. (Am I right?) And boy was Boone something to behold. He was this interesting mix of alpha commando guy who worked for Hawk Delgado, a Dominant in the bedroom, and a caring absolute sweetheart of a man overall. It might sound like a weird combination but Boone was the ultimate hero in my eyes: a bad boy with a golden heart. And he was Ryn's match, or perfect counterpoint, in every single way. *sigh*
And Ryn? She. Was. Awesome. Oh my word but she was a blast to get to know better. Sexy, smart, loyal to a fault, and full of sarcasm, I might just have a bit of a girl crush on her. (lol) I loved that Ryn thought the best of people. But it saddened me that her family took advantage of that fact. At least Boone had her back in all things, whether it was her dream of flipping houses for a living, standing up to her deadbeat (unofficial) sister-in-law, or figuring out her own personal issues.
Ryn and Boone went through a lot of tough situations in a short amount of time. Even some suspense-type moments that spilled over from book one, Dream Maker. But the duo found their groove as a couple, both in and out of the bedroom–which was super hot and not too over the top with the Dom/sub kink–and ended up being exactly what each other needed.
Dream Chaser was everything. Laughs and heartbreak. Sorrow and joy. Pain and intense, fulfilling love. Kristen Ashley created yet another heart melting, memorable romance that's definitely keeper shelf material.
Book Info:

Publication: Published December 15th 2020 | Forever | Dream Team #2
In this steamy, addictive contemporary romance spinning off the New York Times bestselling Dream Man and Rock Chick series, Ryn Jansen must put her trust in the one man she wants — and the one man she can't let herself have.
Ryn Jansen has no interest in taking a risk on Boone Sadler. Thanks to a long list of men who've done nothing but let her down, Ryn vows to stay far away from the caring, protective commando. And when Boone confronts Ryn with evidence that her loved ones are conning her, Ryn is less than thrilled — with her family and Boone. But even as Boone proves he's the kind of guy to meet her every need, she doesn't trust him to stay when life gets hard . . .
Boone Sadler's never been one to back down from a challenge. He's determined to show the funny, sexy Ryn that the irresistible connection between them is worth exploring. But caring for Ryn's heart and body becomes a matter of life and death when Ryn's beloved niece and nephew are put in danger and dirty cops begin gunning for Ryn. Soon Boone realizes their romance is in danger of more than heartbreak — and to have any future together, they'll have to put their trust in each other.

Related