Undressed with the Marquess by Christi Caldwell is the third and last book in the Lost Lords of London series.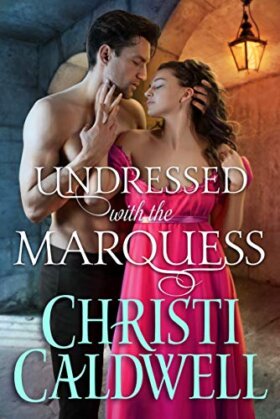 Darius "Dare" Grey could never satisfy his father, the Marquess of Milford, as a child. One day he abandoned his future life as the heir and left Mayfair to have a grand adventure in the Rookeries. Only to find out it was not so grand after all. In order to survive, he turned to the thievery of the privileged nobles and became Robin Hood in the Rookeries for people in need. After being caught and sent to Newgate several times, he finds himself on the gallows about to be hung when his grandfather, the Duke of Pemberly, saves him.
Dare is needed to take up the title of the Marquess or the unscrupulous distant cousin will continue to ruin the broke estates. The duke offers him the money he has set aside if Dare will take care of Kinsley, his sister until she is married or if he gets married and provides a male heir. Unbeknownst to his grandparents, Dare is already married so now he just needs to find his wife and have her help him get his sister married. Dare was not planning on assuming the responsibility of the title instead he plans on getting the money and returning to the Rookeries.
Temperance Swift had married Dare when she was young with the hope it would keep her safe from her abusive father. She tried to convince him to stop his thievery before he got caught but he is convinced he is doing good by helping the poor. When Dare leaves London for a job, her father finds her and beats her causing her to miscarry their baby. Her brother helps her to escape London and she finds work as a seamstress in a small village. She is surprised when Dare finds her and asks for her help, but she agrees because she can help her brother with the money, he will give her. As Temperance slowly breaks through Kinsley's hostility, she realizes that Kinsley does not want to get married. Since Temperance cannot have children after her horrible miscarriage there is no way Dare can meet his grandfather's conditions.
I love this author, but this book was not a hit for me. The pace and the writing itself were good but there were too many things that were just too farfetched such as a marquess would never have been taken to Newgate for bribery. The book contained an abundance of darkness with no true happiness in the end. I think an epilogue with the couple being surprised by a baby in the future would have helped. The parts of the books I did enjoy was seeing Dare's character slowly realize the importance and value of family. Also, he finally came to understand there were many ways besides thievery to help the poor.
Book Info:

Publication: November 17th 2020 | Montlake | Lost Lords of London #3
Long ago, Dare Grey disappeared from privilege to help the downtrodden. Abandoning his future as a nobleman, he instead came of age as the most skilled—and wanted—thief in East London. But when the Robin Hood of the Rookeries is captured, his influential grandfather offers him a choice: face his heritage…or the gallows. And to step into his rightful role as marquess, Dare must find a wife.
Little do they know, he already has.
Marrying Dare rescued young Temperance Swift from a brutal life. Yet his commitments were elsewhere, and Temperance would not continue in the charade of a relationship that surely would end with her husband in Newgate Prison. It broke her heart to leave the righteous bandit, but she established a new life for herself as a seamstress. One who respected and obeyed the law and kept herself safe—if lonely.
But Dare finds her and offers to resume their role as husband and wife, and this time it will yield a fortune. A fortune that could be used to help the disadvantaged, without resorting to ever-more-daring thefts…
Once they're ensconced in the comfortable family fold of Mayfair, the romance they thought ended years ago stirs again. But when every kiss is shadowed by the mistakes of the past, and a haunting secret Temperance bears, will love be enough to save them from such an uncertain fate?

Related