500 Miles from You by Jenny Colgan: Never having spent a single day in a small town, nurse Lissa finds herself miles away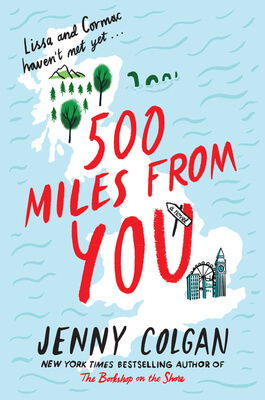 from the comfort of the hustle and bustle of London. After witnessing a fifteen year old boy being run over by a reckless driver Lissa's supervisor thinks it would be best for her to get away from the busy city and spend a few months in a quiet small town in Scotland. After the trauma of witnessing the hit and run and then coming of the trial Lissa really has not been coping well, hoping this change in pace will help her readjust and find her faith again.
With Lissa heading to Kirrinfeif we see all army veteran, medic and all round good guy Cormack taking her place in London. Not having spent much time in big cities Cormack thinks this change of scenery might do him just as much good as it will Lissa. However the fast pace of life in London is so far out of what Cormack is used to and he soon finds himself feeling out of place, where as in Scotland Lissa seems to be finding her self in a similar position, being the odd person out in a close knit town she brings to find it difficult to connect to the people.
These two complete strangers soon begin to find comfort with each other and their daily emails, what started out as a way to check in and share information on their patients, begins to turn into more personal chats. While building their new friendship and helping each other navigate through their new 'homes' they begin to intermix in each others social circles, getting more of a feel for each other.
This book was very different to what I expected it to be, it was definitely not your conventional warm fuzzy read. The beginning of this book was rather slow and the build up kind of drawn out, there was a lot of focus on Lissa dealing with her PTSD. I will say that this book had me crying from the very beginning and then again towards to the end.
I absolutely loved that a large portion of this book took place in a village so close to Loch Ness and that there were so many new things to be learned about the place. This novel did mirror the movie 'The Holiday' in some aspects but really only in that the two main characters switch places with each other. My only major issue with this novel was the ending, I felt like we spent the entire book leaning into Cormack and Lissa's love story but it falls flat in the end. It was a bit rushed and we didn't get to actually see them together or see how their relationship would have unfolded.
 
Book Info:

Publication: June 9th 2020 | William Morrow Paperbacks | Scottish Bookshop #3
Lissie, is a nurse in a gritty, hectic London neighborhood. Always terribly competent and good at keeping it all together, she's been suffering quietly with PTSD after helping to save the victim of a shocking crime. Her supervisor quietly arranges for Lissie to spend a few months doing a much less demanding job in the little town of Kirrinfeif in the Scottish Highlands, hoping that the change of scenery will help her heal. Lissie will be swapping places with Cormack, an Army veteran who's Kirrinfeif's easygoing nurse/paramedic/all-purpose medical man. Lissie's never experienced small-town life, and Cormack's never spent more than a day in a big city, but it seems like a swap that would do them both some good.
In London, the gentle Cormack is a fish out of the water; in Kirrinfief, the dynamic Lissie finds it hard to adjust to the quiet. But these two strangers are now in constant contact, taking over each other's patients, endlessly emailing about anything and everything. Lissie and Cormack discover a new depth of feeling…for their profession and for each other.
But what will happen when Lissie and Cormack finally meet…?

Related