Stolen Kiss With Her Billionaire Boss by Susan Meier is third book in Christmas At the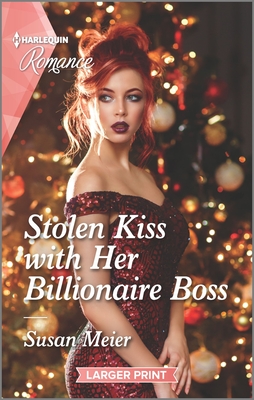 Harrington Park Hotel series where each book has a different author. This one is truly a standalone.
Erin was left alone when she was pregnant after her husband died suddenly. She was left angry with him after she found out he had hidden his diagnosis from her, but confided in a co-worker. Fortunately, she has had her mother living with her to help look after the little boy ,who is now three. She has a good business that is usually flexible. Suddenly, right before Christmas, it has become different. Her largest client, Hugo Harrington, wants her to move to London for several weeks to help open a renovated Harrington Park Hotel in time for Christmas Eve, just four weeks away.
Erin is used to doing a great work for Hugo, but she can't just leave her son and mother during the holidays. Hugo makes her "an offer she can't refuse" by agreeing to pay her extra, include a flat and airfare for her family.
Hugo has his own reasons for the strict time line for opening the hotel. Many things from his troubled past make that a priority for him. He wants to keep Erin and his relationship on a professional level, but can he do that with her so close now?
The London location was lovely with all the special things the group was able to do. I am truly drawn to English settings, both historical and modern. We Americans seem to love British novels and television. No wonder Masterpiece Theater on PBS has just celebrated its 50th anniversary.
The author shows us how both Erin and Hugo carry some huge emotional baggage around and they don't want to lay it down and move ahead. Hugo especially has a broody nature. Erin is extra kind to put up with it.
Christmas is a huge part of the theme, but there is a theme of the need for forgiveness and love at the holidays and always.
 
Book Info:

Publication: December 1, 2020 | Harlequin Romance | Christmas At the Harrington Park Hotel #3
Christmas has arrived…
And she's spending it with her boss!
New Yorker Erin is intrigued when Hugo Harrington asks for her help on a hotel renovation in London, just weeks before Christmas! But Erin soon discovers how personal this project is to her brooding boss. Watching him wrestle with the memories of his past uncovers a side to Hugo she's never seen. And then a stolen snowbound kiss changes everything…

Related