In Swept Away Skye Jordan, Chloe Hart is well-known for her yoga and meditation programs. When her and her two best friends, KT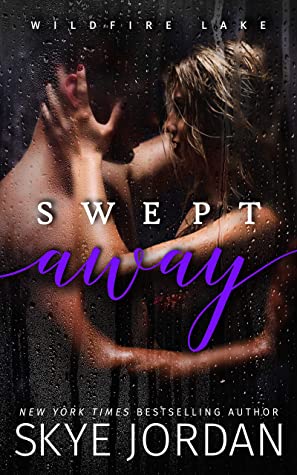 and Laiyla, are hired to host a retreat, Chloe is excited until she discovers the man behind the retreat is actually her ex, Shannon, who broke her heart and now wants her back.
Police officer Xavier Wild moved to Wildfire to help keep an eye on his goddaughter, whose father died in the line of duty. During his time in town, he's become close friends with Chloe, and wants to be more than friends. Chloe has trust issues because of her ex and also doesn't want to ruin her friendship with Xavier. When Shannon makes it clear he's determined to get Chloe back, Xavier steps in and announces to everyone that Chloe is his. He's determined to get Chloe to break her walls down and almost succeeds, until an accident strikes. Will Chloe and Xavier be able to move past the things holding them back to find a future together?
I'll admit, I was confused at first because I had read the first book in the series, In Too Deep (I did not read the second book in the series), and the beginning of these two books start the exact same way, with Chloe, KT, and Laiyla meeting each other at a tropical retreat during a storm. At first, I thought I was reading a book I already read. After you get past the prologue, however, the book veers off from the initial book.
I liked Chloe, although I sometimes found her to be a little too wishy-washy. She wanted Xavier, but she didn't want him. She lets him get close then pushes him away. Out of the two, I liked Xavier more, but he, too, has his own issues, including being a bit rigid, especially where his goddaughter, Piper, is concerned.
I enjoyed seeing more of KT and Laiyla, however, at one point I found myself frustrated with a confrontation KT had with Xavier. Yes, he was in the wrong but Chloe was, too, and Xavier was dealing with an emotional issue. She could have handled better and with a little more understanding of what he was going through.
Despite my issues with some of the characters, I enjoyed the book overall. Swept Away is an emotional romance with plenty of sizzle, some laughs, and a little drama thrown in. It's a good conclusion to the three best friends finding their happy ever after's. I recommend it for readers who enjoy friends-to-lovers romances.
 
Book Info:

Publication: November 16, 2020 | Cygnet Books | Wildfire Lake #3
I knew the day we met, Chloe Hart wasn't a woman you fuck and forget. She's the kind of women men dream about–hotter than sin and sweeter than sugar. Her last lover scarred her heart, and despite our wicked chemistry, she's got me locked in the friend zone.
She can try to ignore the heat between us, but I'm not going away. I transferred here to support my goddaughter through her teens after her father–my partner–was killed in the line of duty. And this kid is as good at finding trouble as Chloe is at sidelining me.
When Chloe's ex shows up for the lake resort's first big retreat, things shift on a dime. Without a second thought, I step in, publicly claiming her as mine.
It seems like a harmless lie in the moment, but when one lie creates another, which creates another, the truth unravels, threatening everything I've come to love.

Related