In Layla by Colleen Hoover, Being a musician has been Leeds' focus over the past few years, especially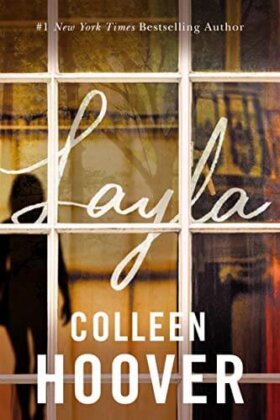 since his last somewhat serious relationship ended. When he sees Layla dancing (badly) to his bands' music like no one is watching, he's very much intrigued. Her free spirit calls to Leeds in a way no woman ever has before. They seem well on their way to a happily ever after when near tragedy strikes. After they are attacked, with Layla suffering the most serious injuries, it takes months for her to recover. But somehow, even after healing completely, she just doesn't seem like the same woman Leeds fell in love with.
'The only thing Layla did wrong is fall in love with me.'
The best idea Leeds can come up with to bring the playfulness and joy out of Layla again is to go back to the place they met–a bed & breakfast in Kansas–that holds a special place in their hearts. But right from the get-go things are different. They have the house to themselves, or so it seems at first. Once Leeds meets Willow, who is also staying there, everything gets even more complicated. Layla's personality and actions change. And Leeds is torn between Layla's safety and helping Willow in her search for the truth about what happened to her. The answers, though, could yet again throw their lives in disarray, not to mention endanger them.
'I need answers. I don't feel like I'll be able to function out in the real world unless I can somehow make sense of everything that's happened in this house.'
Colleen Hoover went all out with her first ever ghost story, Layla. While it was more thought-provoking with a little bit of a creepy factor than it was scary, it was no less of a page-turner than her other contemporary novels have been.
'It's hard to know where to draw the line when the lines aren't even in the same world.'
I'm honestly at kind of a loss as to how to explain Layla. I think it's a story that readers will have to experience to truly understand. It's a ghost story, for sure. It's also a messed up love triangle…sort of. Leave it to CoHo, but the one thing that there's no getting around is that it was one of the most complicated, tangled up, highly emotional love stories–one that transcended death–that I've read in a long, long time.
I will warn that Layla is also a book that might make readers doubt the hero and want to lash out at him, right from page one. But don't give up on Leeds!! There's a reason he made the choices he did and definitely a reason for his conflicting feelings. And the way CoHo alternated the chapters between the present and where it all began made it a lot of fun (I thought, anyway) to piece together just what was really going on with Leeds and Layla. The storyline went places I didn't see happening. Some of which crossed–or at least blurred–some lines. But by the last third or so of the book I was completely and utterly entranced with how it all came together.
Every time I thought I had the plot of Layla all figured out, Colleen Hoover surprised me with another plot twist. Paired with her flawed, compelling characters, this was an experience like no other.
 
Book Info:

Publication: Published December 8th 2020 | Montlake |
From #1 New York Times bestselling author Colleen Hoover comes a novel that explores life after tragedy and the enduring spirit of love.
When Leeds meets Layla, he's convinced he'll spend the rest of his life with her—until an unexpected attack leaves Layla fighting for her life. After weeks in the hospital, Layla recovers physically, but the emotional and mental scarring has altered the woman Leeds fell in love with. In order to put their relationship back on track, Leeds whisks Layla away to the bed-and-breakfast where they first met. Once they arrive, Layla's behavior takes a bizarre turn. And that's just one of many inexplicable occurrences.
Feeling distant from Layla, Leeds soon finds solace in Willow—another guest of the B&B with whom he forms a connection through their shared concerns. As his curiosity for Willow grows, his decision to help her find answers puts him in direct conflict with Layla's well-being. Leeds soon realizes he has to make a choice because he can't help both of them. But if he makes the wrong choice, it could be detrimental for all of them.

Related