The Love Square by Laura Jane Williams: Raised by her Uncle David in place of both her parents,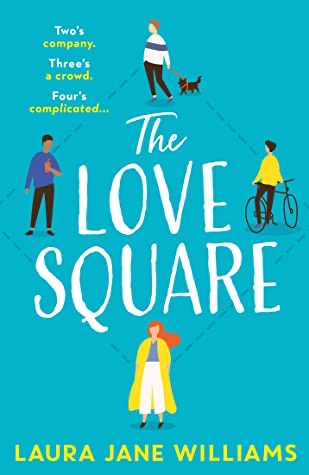 Penny Bridge, despite the seriously awful hand she's been dealt , still maintains a level of optimism that is difficult to fathom given her narrative. Penny is, by and large, a heroic survivor and throughout, complex levels of grief and abandonment spanning across her entire lifetime are explored with some measure of grace, and somehow lightness.
Abandoned by a father who bailed at the first sign of trouble in the form of her mothers breast cancer, to her mother succumbing and passing away when she was eleven, to discovering her own breast cancer at 25, to her partner of 5 years fleeing the moment she was diagnosed; it all adds up to highlight the selfish and cowardly nature of some humans whilst simultaneously exploring generosity, kindness, loyalty and love from all others. Owner and head chef in her own café Bridges, Penny appears to be getting her life back on track except of course, and given her complete lack of faith in people other than her close family and friends, she is finding it challenging to find 'the one'.
By happenstance, her usual bakery delivery person is waylaid one Sunday morning, and Penny is flawed by a kind of chemical, love at first sight response to the replacement Francesco, so much so in fact that despite having his number chooses not to pursue it not believing for a moment that magical things can happen to her. Gorgeous, attentive, patient and well rounded, Penny gets another chance with Francesco as fate brings them once again together a short month later. Sadly however, her family need her more than ever and so Penny is forced to put her life on hold, leaving Francesco, her café and seemingly her life. Until of course, she finds herself smack bang in the middle of a love square that is incredibly entertaining given the mess she is in.
For many, aspects of Penny's story will ring very close to home including the complexity of decision making that is needed when dealing with a potentially life-threatening illness. On the whole, Williams delivered this with some measure of sensitivity and honesty, and despite the crazy love square Penny finds herself trapped in, there were only minor moments that didn't ring true, or rather, more product of the genre rather than product of reality. Pacing, tension and action kernels were well metered and the nature of trust, loyalty and loss were exported succinctly. Throughout, there were also some very profound moments and one-liners enabling little glimmers of philosophy that were well placed given the very real elements of the human condition that was explored.
In some ways, The Love Square was a well rounded RomCom but with the burnt bits of crust left on to give leverage to the lighter silly moments and make them all the more soft and fluffy. Summarily, this a great read that manages to both entertain and give pause for thought, particularly to those who have survived and continue to live life with optimism and gusto.
Book Info:

Publication: 29th June 2020 | Avon |
She's single. But it can still be complicated…
Penny Bridge has always been unlucky in love.
So she can't believe it when she meets a remarkable new man.
Followed by another.
And then another…
And all of them want to date her.
Penny has to choose between three. But are any of them The One?

Related