All's Fair in Love and Chocolate by Amy Andrews: Having grown up in a small town in the middle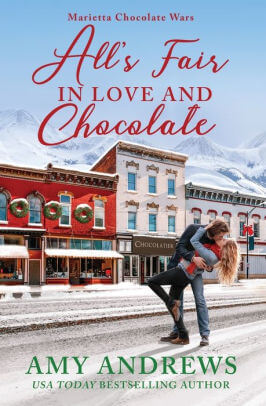 of nowhere, all Vivian wanted to do when she grew up was travel and that is exactly what she is doing now. Vivian really hit the cool job jackpot not only does she work for a high end chocolate shop but as the manager in charge of setting up new locations she gets to travel all over the place. Things take an interesting turn when a steamy one night stand with who was supposed to be a random hottie at small town Marietta soon turns out to be non other than the local deputy sheriff Reuben Price.
What was supposed to be an easy six months in small town Montana to set up the newest Delish store soon turns into an all out hot chocolate show down. With the war of who makes the best hot chocolate a hot topic in town, things between Reuben and Vivian also begin to heat up. The more and more time Viv spends in this small town the more they seem to worm their way into her heart, making her think that just maybe small town living could be for her, but when tragedy strikes just before Christmas the question is will Viv run like she always does or will she finally stay and let her heart lead her?
This was such a cute Christmasy chocolatey delight! I absolutely loved reading every second of Vivian and Reuben's steamy love affair. Both characters were well written and fitted together perfectly, I loved that even though they were opposites they brought out the best in each other. I am a huge fan of small town romances, purely for the towns people, and the towns people of Marietta were brilliant.
All's Fair in Love and Chocolate was the perfect steamy Christmas read, with a mix of small town cheer, hot chocolate wars and a steamy romance there is no way you won't fall in love with this cute holiday romance.
 
Book Info:

Publication: November 12th 2020 | Tule Publishing | Marietta Chocolate Wars #1
When it comes to love and chocolate, it's game on…
When traveling chocolatier Vivian Dawson comes to Marietta to open Delish, a chain chocolate shop, she's unfazed by angry locals. She's not looking for friends—she's the competition, and her target is Sage O'Dell's Copper Mountain Chocolates. To create marketing buzz and a friendly rivalry, Vivian declares Delish's hot chocolate the best in town and will prove it at Marietta's Christmas Stroll. Everyone takes a side, and Vivian hopes a certain deputy will take hers for another unforgettable night.
Sheriff's deputy Reuben Price can't believe his luck when the woman he's been thinking about since a rebound one-night stand opens a shop in town. He's shocked when Marietta's normally friendly citizens become hostile, but he's ready to welcome Vivian with open arms and more.
As Vivian is seduced by the charming town and the sexy deputy, she wonders if she's finally found a home. But when tragedy strikes before Christmas, will Vivian run like she always has or will her growing feelings convince her to stay?

Related