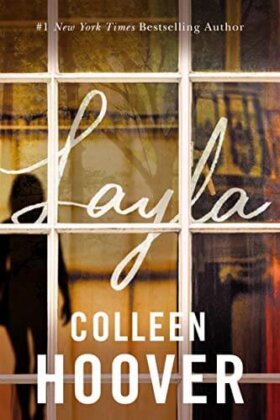 When Leeds meets Layla, he's convinced he'll spend the rest of his life with her—until an unexpected attack leaves Layla fighting for her life. After weeks in the hospital, Layla recovers physically, but the emotional and mental scarring has altered the woman Leeds fell in love with. In order to put their relationship back on track, Leeds whisks Layla away to the bed-and-breakfast where they first met. Once they arrive, Layla's behavior takes a bizarre turn. And that's just one of many inexplicable occurrences.
 
Feeling distant from Layla, Leeds soon finds solace in Willow—another guest of the B&B with whom he forms a connection through their shared concerns. As his curiosity for Willow grows, his decision to help her find answers puts him in direct conflict with Layla's well-being. Leeds soon realizes he has to make a choice because he can't help both of them. But if he makes the wrong choice, it could be detrimental for all of them.
I make sure Layla isn't anywhere near me when I whisper, "Is someone here?"
Nothing happens.
No one responds.
That's because ghosts don't exist, Leeds.
"Jesus Christ," I mutter. I'm now on the same playing field as the crazies in the forum.
I stand up and stretch my arms over my head. I look around the room, waiting another few seconds, as if someone is actually going to respond to that question.
I finally shake my head at how absurd my thoughts have been the last few days. I walk toward the door and grip the handle, and then an unexpected sound forces me to pause in my tracks.
One of the piano keys just played.
It was so loud I recognized exactly which key it was that made the noise. Middle C.
I close my eyes.
That did not just happen.
I slowly turn around, eyes still shut, not sure what I'm expecting to find when I open them. Maybe my laptop fell onto the piano keys? My pulse is pounding so violently—I can feel it in my neck.
I open one eye . . . then the other.
There's no one at the piano. No one in the room but me.
I immediately pull my phone out of my pocket, open the app for the security cameras, and watch the playback of the last thirty seconds.
The app shows me standing up from the piano. Stretching. I keep my eyes on the footage of the piano. As soon as I reach out for the door handle, middle C on the piano is pressed by nothing.
The key just . . . played itself.
There was nothing there. Absolutely nothing.
There is no way that can be explained.
My first instinct is to run, but my second instinct—the part of me that finds this fascinating—wins out.
"Do that again," I say, walking closer to the piano.
A few seconds pass, and then the same key plays itself again.
I take a quick step back.
My knees feel like they're about to give out.I bend over, staring at the piano. I take in a slow breath.
I want to ask another question. I want to ask a million questions. But the reality of this moment is too heavy for me to accept. This is where I draw the line, apparently, because I'm walking toward the door. Rushing. Running. Halfway up the stairs, I pause and press my back against the wall.
I think back to every ghost story I've ever laughed at. Every fairy tale I've never believed in.
Could I really be wrong?
Incredulity begins to simmer inside of me, or maybe it's fear. How can I have been wrong my whole life? I've always been able to explain everything. These last few days have been the only time in my life I haven't been able to explain something away.
I can either continue to run from that, or I can confront it. Figure it out. Put my mind at ease.
I think about the idiots in scary movies that never run when they should, but I empathize with them now. The need to disprove the thing that's scary is greater than the need to run from the potential harm it might bring.
I'm not convinced this is something I should be scared of. I'm convinced it's something I should investigate.
When I'm back in the room, I close myself inside. I realize most sane people would be in the rental car right now, getting the hell away from this place. I'm still not sure that won't be me in a few minutes.
"Who are you?" I ask, staring at the piano, my back pressed to the door in case I need a quick escape.
I wait for an answer but realize a question like that can't be answered with the stroke of a piano key.
I hesitate before finally walking to the piano. I look behind it. Beneath it. Inside of it. There are no wires . . . no setups that would allow someone to be doing this.
"Press a different key."
The D key is played this time, almost immediately.
I cover my mouth with my hand and mutter "Holy shit" against my palm. I have to be dreaming. That's the only explanation.
"Press the A key."
The A key makes a sound.
I don't know what's happening, but I completely suppress the skeptic in me and just go with my instinct this time. "I have questions," I say. "Press middle C for yes. D for no. A if you don't know the answer."
Middle C presses lightly, which means yes. My voice comes out a little shaky when I ask, "Are you dangerous?"
I don't know why I ask that. Any dangerous entity would surely deny they're dangerous.
The D key is pressed for no.
"Are you a ghost?"
I don't know.
"Are you dead?"
I don't know.
"Do you know me?"
Excerpt. ©Colleen Hoover. Posted by arrangement with the publisher. All rights reserved.
 
 
Colleen Hoover is the #1 New York Times bestselling author of several novels, including the bestselling women's fiction novel It Ends with Us and the bestselling psychological thriller Verity. She has won the Goodreads Choice Award for Best Romance three years in a row—for Confess (2015), It Ends with Us (2016), and Without Merit (2017). Confess was adapted into a seven-episode online series. In 2015, Hoover and her family founded the Bookworm Box, a bookstore and monthly subscription service that offers signed novels donated by authors. All profits go to various charities each month to help those in need. Hoover lives in Texas with her husband and their three boys.
 
Social Media Links: Website | Facebook | Twitter | Goodreads