Today it is my pleasure to Welcome author
Isabel Cooper
to HJ!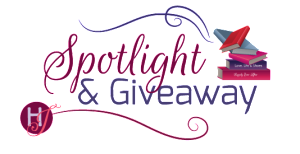 Hi Isabel and welcome to HJ! We're so excited to chat with you about your new release, The Stormbringer!
Please summarize the book for the readers here: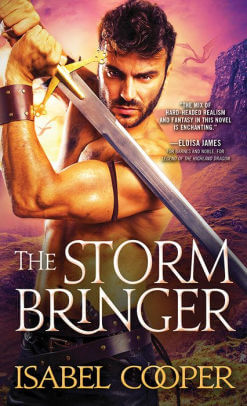 A hundred years ago, an angry man almost broke the world. Now he's coming back. The only people who know are Amris var Faina, the general who defeated that guy and got frozen in time, Darya, the Sentinel who found him in the course of hunting a monster, and Gerant, Amris's former lover, now a spirit inhabiting Darya's sword. There's a small army of horrors approaching civilization, miles of wilderness to get through in order to bring back warning, and a whole ocean of awkward as Darya and Amris start to find each other extremely attractive.
 
Please share your favorite quote from this book:
"There's yet plenty of good in the world," [Amris] said, "and if we don't know for certain that we'll save it, that's all the more reason to enjoy what we have…"
Please share a few Fun facts about this book…
The verses of a copyright-free drunken song in the book come from "The Ball of Kerrymuir," which is not safe for work or anything else. The lines I quoted were the mildest by far.
I established the gods of this world for a RPG when I was in high school. The blizzard-themed near-apocalypse, on the other hand, came from spending 2013 in New England.
Ozzy Osbourne's "Party With the Animals" and Sisters of Mercy's "This Corrosion" were the soundtrack when I wrote most of the fight scenes. Sentimental moments had a lot of "As Time Goes By" (the Billie Holiday version) and "We Close Our Eyes," by Susannah Hoffs.
If your book was optioned for a movie, what scene would you use for the audition of the main characters and why?
I'd take the one where Darya and Amris first make camp, and he asks her what's happened to the world while he's been in stasis. It's not good news. But it is an excellent scene for getting a sense of the characters: it's the first time Amris gets to be comforting, and it shows the bond between them developing with Gerant's approval and knowledge.
my teacher told me, when I was training, that there were half as many people living then as there were in your day. That was fifteen years ago, after a couple generations of breeding."
She didn't say: They ate the food, they ate dogs and rats and horses, they ate the candles for tallow, they ate the bark off the trees and the leather of their boots. She didn't say By the end, many of them ate one another, and it didn't help.
All of that had been history before: sad, and horrifying to think about, but distant, and so well known that neither she nor Gerant had needed to speak of it. Now, Darya saw blood on the snow, faces that were half skulls, bodies burning in the streets, and those who wanted to live unable to move away from the stench.
A hand—large, warm, and callused—settled on top of hers. Darya looked up into Amris's face and managed a quick, guilty smile. "I think I'm supposed to be comforting you, considering."
"You have, and will again, but—" He shrugged. "Shock and memory are each their own sort of pain, and they strike at different times. Just now, I have reserves."
He was speaking to her and Gerant both, Darya knew, and she spoke for them both when she replied, "Thank you," and laced her fingers through his."
Excerpt. © Reprinted by permission. All rights reserved.
 
What do you want people to take away from reading this book?
Friendship is occasionally, literally, magic. Communication is great. Jealousy is bullshit. Also, the problems of the past have an unfortunate way of coming back in new forms if people don't keep watch. Chesterton said it in "The Ballad of the White Horse," Tolkien said it as "the Shadow takes another shape and grows again," and here I am saying something of the sort only with more gemstones and sex.
Thanks for blogging at HJ!
Giveaway:

A paperback copy of THE STORMBRINGER by Isabel Cooper
To enter Giveaway: Please complete the Rafflecopter form and Post a comment to this Q:

What's the best thing a friend has ever done for you?
Book Info:
The Witcher goes fiercely feminist in this gripping paranormal romance from noted author Isabel Cooper.
Raised to be weapons against the darkness, Sentinels spend their lives fighting the monsters that prey upon humanity. Their hands will shape the world, and their swords will seal its fate.
A warrior lost to time…
Pursuing her latest quarry deep into the wilderness, Sentinel Darya finds herself in an ancient city that should no longer exist. There she comes upon a handsome warrior in ancient clothing, held in a deathlike sleep—Amris, hero of the last great battle against the Traitor God. His discovery, and the weakening wards about the city, can only mean one thing: the Traitor is gathering his armies again, and the storms are returning.
Amris has been trapped in dreamless sleep since the final battle raged centuries ago. Now he is awake…and so, it seems, is humanity's greatest threat. Determined to save the world from being swallowed by the oncoming storm, Amris and the fiercely beautiful Darya must learn to trust each other—and the powerful bond that's formed between them—as they fight their way through a land swarming with monsters in a last desperate bid to get word back to their allies before it's too late…
 
 
Meet the Author:
Isabel Cooper lives in Boston with two thriving houseplants. During the day, she maintains her guise as a mild-mannered project manager working in legal publishing. None of the houses she's lived in has been haunted, although one of her former roommates might have dated a zombie. For more visit isabelcooper.wordpress.com.
 
 
 
Related