The Best Cowboy Christmas Ever by June Faver is the first book in her new Garrett Family Saga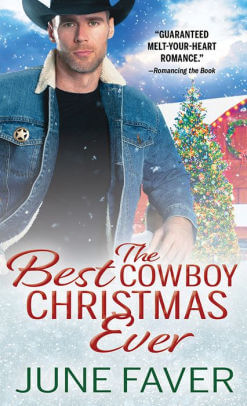 series. Get ready for some sexy cowboys, strong, determined women and cute kids ready to celebrate Christmas. Little Gabriella is super cute!
Angelique Guillory is on the run with her precious little toddler Gabriella. Gabi's paternal grandfather Alphonse Benoit who is rich, well-connected and very crooked is trying to take Angelique's daughter away from her. His son, Remy who was Gabi's father died in a fire set by Benoit's thugs. Remy and Angelique owned a restaurant together and Benoit was unhappy with the situation. Remy wasn't supposed to be in the restaurant when the fire was set. Angelique's mother Sophie Guillory was Benoit's girlfriend up until the time Sophie passed away from cancer.
On her death bed Sophie confessed to Angelique her father's name. So Angelique is on her way to Langston, Texas to finally meet her father Big Jim Garrett. In her mad dash away from New Orleans and Gabi's murderous grandfather Angelique encountered icy roads and slid into a ditch. Sheriff Derrick Shelton comes along and rescued her. Angelique gets to meet Big Jim, his three sons and their families. Big Jim accepts Angelique and Gabi right away. There's no disputing the Garrett blue eyes. Middle son Tyler and his wife Leah welcome them with open arms. Oldest son Colton and his wife Misty are definitely not so welcoming. Colton thinks Angelique is a con artist out to scam his father, not his sister at all. Youngest son Beau and his wife Dixie are neutral.
It's Christmas time and this family situation is looking to bring a not-quite-so-merry family Christmas. Angelique's biggest fear is Benoit catching up with her. She hopes the Garret family can all accept her and Gabi and keep them safe. That would be the best Christmas present she could ever receive.
When Sheriff Derrick Shelton sees a car had slid off the side of the road of course he is going to stop to help. He didn't expect the beautiful Angelique Guillory to be the driver of that car. Derrick realizes right away that he wants to get to know this woman better. The attraction to Angelique really zapped him hard. Derrick starts dating Angelique and keeps falling more and more for her and her super cute daughter Gabi. Angelique isn't very forthcoming with a lot of personal information about herself. She seems to avoid that discussion and changes the subject. When a piece of information about Angelique crosses his desk Derrick knows he has to confront Angelique about her past. He knows he will do all he can to protect her.
Author June Faver is one of my favorite Cowboy Romance authors. Her stories are liberally sprinkled with great characters, fun dialogue and intriguing plots. I like how Angelique is so protective of little Gabi and how Derrick is so protective of both of "his girls." I first met Big Jim and his family in Ms. Faver's Dark Horse Cowboy series. Great series. This new series looks to be another good one. I couldn't wait to see what would happen next but didn't want the story to end.
Book Info:

Publication: September 29th 2020 | Sourcebooks Casablanca | Garrett Family Saga #1
Enjoy a down-home Texas cowboy Christmas!
When handsome town sheriff Derrick Shelton meets Angelique Guillory and her young daughter at the Garrett ranch, he is immediately drawn to the woman who seems to desperately need a true family Christmas. Determined to erase the shadows from her eyes, he decides to give her the best holiday she's ever had.
Angelique Guillory is a woman with a past, haunted by violence and searching for the family she never knew. When she and her little daughter find their way to the Garrett family and meet Derrick, she hopes to have finally found a safe haven.
But Angelique is still looking over her shoulder. Despite her doubts, with a little Christmas magic and the warmth of the Garretts, Angelique may find more love and acceptance than she ever thought possible.

Related