No Strings Christmas by Clare Connelly: Never being one to believe in the love and happily ever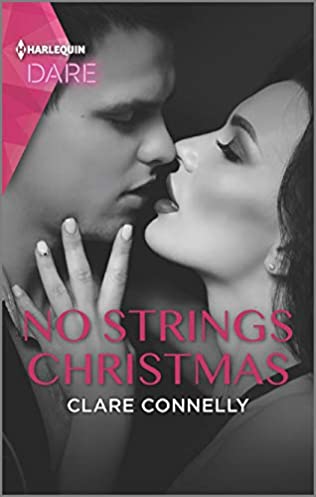 after mumbo jumbo Zach Papandreo begins to question if just maybe his brother could be onto something with the whole family life business. Convinced that this is not the case playboy billionaire Zach jumps at the chance of a steamy one night stand with the gorgeous Jessica.
Jessica knows what she wants and this time it just so happens to be the charming Zach, after spending a steamy night together in her Singapore hotel room, Jessica begins to question if Zach is just the thing she needs to get through the Holidays with her loopy family. Soon what started as two people completely down for a new stings holiday fling turns into real feelings. After experiencing normality with Jessica, Zach begins to question just maybe his twin brother might be onto something.
This was just brilliant, I absolutely loved every single second of this book. This was a fast paced no extra drama read that hit all the right spots. I loved that Zach went from a complete non believer to being a relationship man. The chemistry between these two characters was so on point.
I would highly recommend reading this steamy Christmas romance to any and all romance lovers, your heart will melt right along with Zach's.
 
Book Info:

Publication: November 1st 2020 | Harlequin Dare | Billion-Dollar Singapore Christmas #2
Notorious playboy Zach Papandreo agrees to a decadent Christmas fling in Clare Connelly's A Billion-Dollar Singapore Christmas duet. Look for his twin's story, An Heir Claimed by Christmas , in Harlequin Presents!
Dimitrio and I have always known love is a joke. So watching my twin get married makes me question everything. I've never seen him happier. But I didn't earn my billions—or my playboy reputation—following my heart off a cliff. And I'm not about to start now. So when confident, gorgeous Jessica Johnson suggests one night of mind-bending pleasure, I'm all in!
One fantastic night in her luxury Singapore hotel room should be enough. But when the fiercely independent entrepreneur suggests we continue things over Christmas—no strings, no expectations and definitely no love—I can't help giving her exactly what she wants. Over and over again!
Distracting the sultry brunette from her dysfunctional family is an easy task. And having Jessica's sweet curves and supple skin pressed against me every night is more decadent than anything my money can buy. We're both just in it for the sex… But could spending the holidays with Jessica leave me wanting the very thing I vowed to avoid?

Related