In for a Penny  by Melissa Foster is book #7.5 in her The Whiskeys: Dark Knights of Peaceful Harbor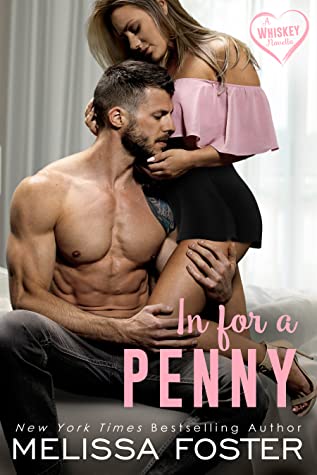 series and it starts out with a bang.Melissa Foster brings her readers another emotionally satisfying story full of hugs to make you feel better and happy hugs too.
More like an explosion! Penny Wilson and Scott Beckley have a super hot sex scene on Scott's refurbished cruising yacht. These two have an electrifying attraction to each other. Penny owns Luscious Licks , the ice cream parlor in Peaceful Harbor. Scott works at the marina. These two are absolutely made for each other. Ms. Foster's words and descriptions bring their love for each other to life. This is a short story but it is long on heartwarming feels and emotion. This is especially true in how Penny and Scott seem to complete each other. Their love amazed me as they come from such different backgrounds. Penny grew up with her sister, mom and dad as a happy, loving family. Scott comes from a brutally abusive home. He was kicked out of that home when he was seventeen to fend for himself. It devastated him that he couldn't take his two younger sisters, Sarah and Josie with him to save them from their abusive parents. In spite of the abuse Scott is a wonderful, loving guy.
This is also the story of Scott's sister Sarah and Bones Whiskey's wedding. The wedding section of the book is so beautifully written. From the description of the wedding venue, to the description of all the ladies' dresses, to the description of the wedding processional where little Bradley pulls his little sister Maggie Rose down the aisle in a white Cinderella carriage that Bear Whiskey built, it's all breathtakingly done. I could hear Christina Perri singing "A Thousand Years" as a proud Scott Beckley escorted his sister Sarah down the aisle. So beautiful!
So Melissa Foster has done it to me again. She has transported me into an emotionally buffeting story where I feel what the characters feel. That takes real talent by a writer. I love this author's voice and hope she continues to tell me more stories in the future.
Book Info:

Publication: December 9th 2020 | World Literary Press | The Whiskeys: Dark Knights at Peaceful Harbor #7.5, Love in Bloom #66
Friendships and family abound during a week of love, laughter, and happily ever afters. Catch up with your favorite characters and enjoy Bones and Sarah's wedding while falling in love with the newest Whiskey-world couple, Penny Wilson and Scott Beckley in this Whiskey series novella.
When everything you want is right in front of you, but it's still out of reach…
Penny Wilson has a successful business, more friends than a girl could ask for, and a boyfriend she's madly and passionately in love with. Scott Beckley is honest, loyal, hands down the best lover on the planet, and absolutely gaga over his nieces and nephews. Scott's a keeper…as long as Penny doesn't ever want to hear those three magical words that would take their relationship to the next level. Scott escaped abusive parents at seventeen and was forced to find his way alone in the world. Even though it's been more than a decade and he's reunited with his estranged sisters and built a good life in Peaceful Harbor, Maryland, he's still tortured by his past. Penny knows he loves her with everything he has, but for a girl who wants a family and a guy who is afraid of having one, love might not be enough.

Related