In A Warm Heart in Winter (Black Dagger Brotherhood #18.5) by J.R. Ward, Members of the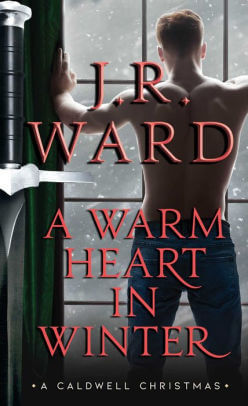 Black Dagger Brotherhood, Qhuinn and Blay are a mated pair in everyone's eyes. Even if they have never had a chance to go through the mating ceremony to make things absolutely official. It doesn't change the fact that they would do anything or sacrifice anything for each other. But the holidays are making the couple a bit sentimental. So what better time for Blay and Qhuinn to plan a party–with the help of Bitty and Lassiter–than when a blizzard is set to hit Caldwell, with all the brothers and their families in the mansion?
'Things were raging outside, the wind ferocious and the snow no doubt falling by inches that would turn into feet. But they were safe and warm and dry–all who lived in the house, not just his own little family.'
Plans change quickly in the world of the Brotherhood, though. Just as Qhuinn and Blay are on the path they are meant to be traveling together, tragedy strikes. Add to that one of them also getting badly injured and it's enough to test the strongest of relationships. But Blay and Qhuinn are made of strong stuff. And they have a lot to live for, beginning with their twins, as well as the rest of their chosen family. They know that if they can make it through this storm–both literally and metaphorically–then Quinn and Blay will have the rest of their lives to enjoy in each other's arms.
'He reflected that time was never a given, love was never to be taken for granted, and some gifts could not be wrapped and put under the tree.'
A holiday-themed romance–Black Dagger Brotherhood style–that left me an emotional wreck in a good way, A Warm Heart in Winter was a bittersweet tale filled to the brim with family and love. So. Much. Love.
"I love you," Blay said quietly. "More than the first moment I saw you and less than I will as the sun sets tomorrow."
Trigger Warning: View Spoiler »Male/Male romance, suicidal thoughts and suicide. « Hide Spoiler
How does J.R. Ward do it? I mean, eighteen books into the BDB series and each story still seems fresh while continuing the overall story arc and drawing us fans more than willingly along for the ride. I've honestly got to say that Blay and Qhuinn's romance (which is M/M) is one of my favorites to learn more about in some time. The Warden did a fantastic job of painting them in a realistic light, flaws and all, while still showing us how deeply in love Qhuinn and Blay were. Completely. Swoon-worthy. It was breathtakingly tender. Wildly passionate. And we got to see just how supportive the couple was of each other after tragedy struck.
As always with The Warden's books, just about anything I say about the storyline will give spoilers. What I can tell you is that we got to spend time with just about everyone within the BDB world you can think of in and around the mansion as they got ready for the holidays–and a Nor'easter. Yes, even Lassiter. His part of the story, though, I think will surprise readers and make them have new appreciation for the usually-spandexed deity. (lol) Let's just say Lassiter brought me to tears. Twice. *sniffle* As did Blay and Qhuinn's mating ceremony, with the joy and love that everyone shared that magical night.
J.R. Ward continues to be one of the most consistent authors in terms of writing quality, world-building, and characterization–and, of course, overall awesomeness. A Warm Heart in Winter is a novel not to be missed by BDB fans. Highly, highly recommended.
Book Info:

Publication: Published December 1st 2020 | by Pocket Books | Black Dagger Brotherhood #18.5
#1 New York Times bestselling author J.R. Ward is heating things up this winter with a holiday novel featuring some of her most iconic Black Dagger Brothers.
In this romantic and sexy addition to the #1 New York Times bestselling Black Dagger Brotherhood series, a beloved couple has everything arranged… until it all goes horribly wrong.
Blay and Qhuinn always intended to do a proper mating ceremony, but life has a way of getting in the way. With a pair of young, responsibilities to the King, and a grueling fighting schedule, the two are exhausted and overwhelmed. When Qhuinn gives his male the proposal of a lifetime, however, they are excited for their special night and more in love than ever.
Everyone in the Black Dagger Brotherhood's mansion gets into the preparations, and the after party takes on epic- and immortal- proportions when Lassiter forms the Party Planning Committee. The celebrations promise to be all that the couple deserves… until a Nor'easter land locks Caldwell in a fierce storm, and things go from lighthearted to deadly dangerous.
Battling nature and responding to emergencies, Blay and Qhuinn get separated, and when a catastrophic chain of events puts one of their lives in jeopardy, the night they had so looked forward could mean the end of everything…

Related