A Surprise Christmas Wedding by Phillipa Ashley: Lottie is slowly getting over the heartbreak of a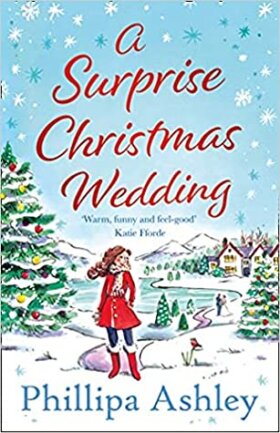 broken engagement. She has a wonderful job as an events planner at the Firholme estate in England's lovely Lake District. Her boss, Shayla, is hoping a Christmas wedding will garner good publicity and help future success.
Lottie is excited to help plan a rushed Christmas wedding until she finds out the groom is her former fiancé'. Can she manage to stay professional and keep the past a secret from Connor 's intended and her boss?
Lottie lives on the grounds of the estate in a small cottage. She is looking forward to getting to know the new groundkeeper, Jay. Can he help mend her broken heart?
The setting of this story is almost as important as the plot. The reader can feel they are right there with the vivid descriptions. As an American, I am always impressed with English locales since they seem somehow lush and special.
Lottie is a smart lady, but, like many of us, has been tricked by a man who she thought she could trust. Connor seems more than a little wishy-washy and not very mature. He provides some funny moments along the way.
Luke is the type of man women should care for. He is kind, caring and hardworking. Unfortunately, not all women think that way. They often seem drawn to those with some mystery and a touch of "bad boy".
A Surprise Christmas Wedding is a clever story with drama, love, humor and fun in the perfect blend.
Book Info:

Publication: November 20, 2020 | Avon |
It's been a year since Lottie's fiancé walked out, leaving her heartbroken. But things start to look up when she lands her dream job at a beautiful Lake District estate, with a handsome groundskeeper for a neighbour.
So when Lottie is asked to organise a last minute Christmas wedding at Firholme, she can't wait to get started. Until she meets the couple, and discovers that Connor, the man who broke her heart, is the groom-to-be.
As snow falls on the hills, can Lottie put aside her past to organise the perfect winter wedding? And will there be any festive magic left to bring Lottie the perfect Christmas she deserves?

Related