How to Fail at Flirting by Denise Williams: Hiding within the confines of her protective risk-free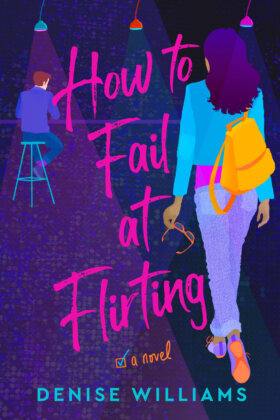 cocoon, Naya, Professor of Education at a reputable University, has been limiting friends and social events, and throwing herself into her work to ultimately avoid living.
Seemingly, Naya is desperate to eliminate any and all situations that could potentially leave her embarrassed or humiliated, all the whilst knowing intellectually that risk and failure are part and parcel of everyday life. Classic cat lady minus the cat, Naya is challenged by her loving friends Aaron and Felicity to create and commit to a 'to do' list that will see her turning her volume up again. In heeding their advice, she had no idea that a poor attempt at flirting in a bar on a Tuesday night would end up in an impromptu date with Jake, who for all intents and purposes is perfect. And so a saucy weekend romance ensues at a ferocious pace, so much so that both appear to deliberately omit the details of their lives that will either make or break them.
In many ways, revealing backstories and unpacking the real baggage isn't something anyone launches into a first date with the intent of doing, however, as time and their relationship progresses, it appears both are hiding a few key past trauma's that effectively lead to some fairly significant trust issues. Further compounding this for Naya is the fact that she hasn't addressed the humiliation, fear and life-long scars her abusive and controlling ex-partner have left her with, so much so that for a time there she almost lives a duplicate life – one in complete fear of her ex who suddenly appears back on the academic scene, and the other in complete romantic bliss with Jake, who is literally amazing.
This topically relevant romance unpacked it's key themes with sensitivity and a strong dash of realism. The pacing was of particular note given that at key junctures, details of her horrific past relationship were provided to give clear rationale as to why Naya was withholding so much, whilst she was also trying desperately to feel whole and alive in the world again. Both central characters were shaped effectively and their romance was the kind of deep connection bond, wrapped in spicy goodness that had complete endorsement from the moment they exchanged smiles in the bar. Funny, painful, raunchy and utterly delightful, How to Fail at Flirting is a great example of how to combine both the darkness and the light to effectively lead to a thoroughly well-deserved Happily Ever After.
 
Book Info:

Publication: 1st December 2020 | Berkley |
When her flailing department lands on the university's chopping block, Professor Naya Turner's friends convince her to shed her frumpy cardigan for an evening on the town. For one night her focus will stray from her demanding job and she'll tackle a new kind of to-do list. When she meets a charming stranger in town on business, he presents the perfect opportunity to check off the items on her list. Let the guy buy her a drink. Check. Try something new. Check. A no-strings-attached hookup. Check…almost.
Jake makes her laugh and challenges Naya to rebuild her confidence, which was left toppled by her abusive ex-boyfriend. Soon she's flirting with the chance at a more serious romantic relationship—except nothing can be that easy. The complicated strings around her dating Jake might destroy her career.
Naya has two options. She can protect her professional reputation and return to her old life or she can flirt with the unknown and stay with the person who makes her feel like she's finally living again

Related