Christmas At Willoughby Close by Kate Hewitt: Lindy Jamison leaves her old life behind when she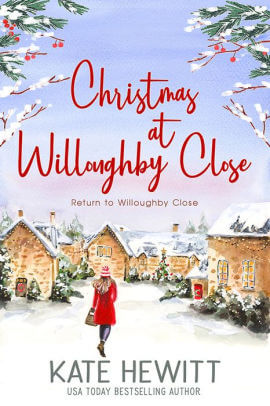 moves to a small town in the Cotswolds. She opens a ballroom dancing school for all ages, which has been her heart's desire for many years. Her dream of having a husband and family seems to be fading aways as she nears forty and is still single.
Her school attracts a wide variety of students. The one who is the most intriguing is Roger Wentworth. Roger is in his forties, stiff and formal and seems to want to be doing anything but dancing. He is only there for classes for the sake of his mother who has cancer. He has moved nearby to care for his mum and will do almost anything for her.
Lindy is outgoing as you would expect a dance instructor to be. I liked that she was firm, but kind with her students, especially the adults. Even though Roger is very socially awkward, she sees all the good and kindness in him, even more so after he helps her adopt a dog through the rescue program he volunteers with.
Roger is a man of few words. One of his co-workers at their accounting firm seems to be sort of making fun of him each Monday, but that changes as Roger does. The author lets the reader see beyond Roger's stiff exterior into his tender heart. Towards the end of the story, I had to reach for my tissues as Roger dealt with his mother's illness.
Author Kate Hewitt returns the reader to Willoughby Close in this beautiful novel. The manor does not play quite as huge a role as it did in the previous Welcome To Willoughby Close. The tale is more about the charming characters. The manor does serve as the location for a special Christmas time performance that is somewhat pivotal to the plot.
I loved this book #3 just as much as book #2. I will be excited about any new journeys to Willoughby Close.
Book Info:

Publication: November 16, 2020 | Tule Publishing | Return To Willoughby Close #3
Welcome back to Willoughby Close, with four new residents and happy endings to deliver…
Belinda 'Lindy' Jamison has moved to the Cotswolds for a fresh start and to open a dancing school—her lifelong dream. Pushing forty and still looking for Mr. Right, Lindy is determined to no longer wait for happiness but to reach for it with both hands. So she packs up her life and heads south to Wychwood-on-Lea to start up her school.
Soon Lindy has a motley crew of would-be dancers. But her most intriguing pupil is Roger Wentworth, a forty-something bachelor with a shy and awkward manner, but a heart of blazing gold. When Lindy decides to showcase her pupils in a Christmas show, Roger is deeply reluctant but finally agrees. Lindy longs to bring Roger out of his shell—but she didn't expect to fall in love with him in the process.
Soon it is Roger teaching her how two lonely hearts might be able to embrace a second chance this Christmas…if they can just believe they're both worthy of love.

Related