Texas Christmas Baby by Katherine Garbera: Zara Mitchell has left LA behind and is driving to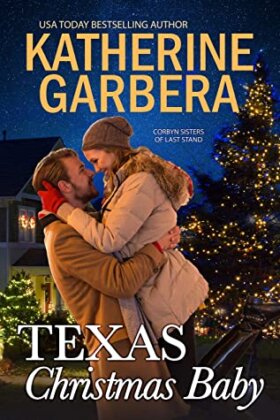 Last Stand, Texas when she is eight months pregnant.She has her best friend, Amelia, there to help her as she gets settled. The father of her baby didn't tell her he was married and had a family, so she and the baby she's calls Sprout will be a family of their own.
Not far from town, Zara's car breaks down and her cell phone has no charge. Luckily, for her, she is rescued by Jay who is staying in Last stand also. Jay is visiting Last Stand after finding out he has a half-sister who is living there. When he finds out this half-sister, Amelia, is Zara's best friend things become even more complicated. It doesn't help that he is attracted to Zara, too. Does he reveal his trued identity as the son of a famous country singer, or does he keep the secret to himself and lose a chance at love and family?
J.T. Williams is a good man who has had to live with a father with issues and try to find his own path. Author Katherine Garbera does her usual wonderful job of showing a man who is strong and vulnerable at the same time. His kindness is revealed from the very beginning.
Zara is brave to set out on her own with being very pregnant. The reader does find out that she has planned ahead for the future with a job on the horizon after the baby's birth.
I always love a small town setting and Last Stand, Texas is just perfect for a Christmas story. I was thrilled to read another charming story by Katherine Garbera and I know her many fans will love it, too.
Book Info:

Publication: November 15, 2020 | Tule Publishing | Corbyn Sisters of Last Stand #2
They have more than one surprise in store this Christmas Eve…
Zara Mitchell is about to be a single mother. After finding out her baby's father lied about everything, she's decidedly on her own. But when her car breaks down outside Last Stand, Texas, she's rescued by the most beautiful man she's laid eyes on. He's her knight in shining armor, and Zara is starting to believe in fairy tales.
J.T. Williams has a charmed life, or so he thought until his parents' marriage deteriorated and exposed a half-sister, Amelia, in Last Stand. Intent to make up for his father's shortcomings, he sets out to meet her but is derailed when he comes across a pregnant beauty stranded outside of town. And when he learns that Zara and Amelia are best friends, he impulsively decides to hide his identity to get to know both women without added pressure.
As Christmas nears, J.T. and Zara find themselves giving in to their feelings. But J.T.'s well-intentioned lie might cost him everything.

Related