Today it is my pleasure to Welcome author
Julie Hammerle
to HJ!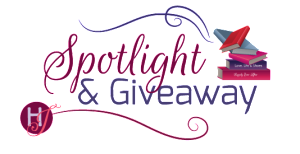 Hi Julie and welcome to HJ! We're so excited to chat with you about your new release, WRITE BEFORE CHRISTMAS!
 
Hi! I'm so glad to be here! Thank you for having me.
 
Please summarize the book a la Twitter style for the readers here: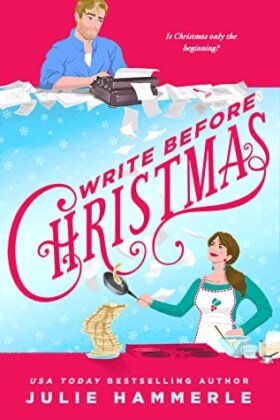 The author of a very popular fantasy series hires a woman to cook for him while he's on a tight deadline…right before Christmas. Romance ensues!
 
Please share the opening lines of this book:
What comes next? What comes next?
My brain chanted these words over and over again, cutting through the death metal pounding in my ears, as my feet hit the pavement. Alone on the road, I forced a fist pump in a futile attempt to jolt my creative juices into a flow state.
What comes next?
Please share a few Fun facts about this book…
I had wanted to name our puppy Ralph Waggum, but was shut down by my family. So, I gave the dog in this book that name.
The toilet bank story comes from a personal place of pain 🙂
Dani's dad isn't totally based on my father-in-law, but his love of Elvis, Miller Lite, and moonshine come directly from him.
The book's setting is a fictionalized version of my favorite place on earth, a resort near Galena, IL. Like Dani, my family has been vacationing there for decades.
As a kid I, like Matt, used to make up a whole soap opera about our family's Christmas ornaments.
What first attracts your Hero to the Heroine and vice versa?
Matt and Dani meet thanks to the her dog, Ralph Waggum. Matt thinks she's funny and cute, and he likes that she doesn't seem to know about his books or TV series. She finds herself attracted to this Brad Pitt look-alike, the first guy who's turned her head since her divorce.
 
Using just 5 words, how would you describe Hero and Heroine's love affair?
Sweet, fun, open, real, and cathartic.
 
The First Kiss…
"We're not complete strangers now, though, are we? I'm Matt. You're Dani—" My stomach bubbled with excitement as she stepped closer.
"Continuing this whole 'things I normally wouldn't say to a complete stranger' business…I'm kind of in a giddy mood right now, and I'd like to kiss you," she said, her eyes narrowing.
"Please do," I told her. "I'd like you to kiss me."
"Really?"
"Really."
She snatched the tumbler of moonshine back from me and drained it as a soft, chilly breeze ruffled her hair. With a lick of her lips, she dropped the cup. I barely had time to register the clank of the aluminum against the asphalt before her mouth was on mine.
Without revealing too much, what is your favorite scene in the book?
I really love the final scene! It's fun and sweet and really ties things up. I don't want to give away the ending, though, so I'll say that I also love the scene where Dani removes a shard of glass from Matt's foot.
I tried to keep my own expression neutral as Dani's feather-light fingers touched my skin again and carefully extracted the bit of glass from my wound with the warm metal tweezers. She placed them and the shard of glass with a clink on the marble table, then moistened a cotton ball with hydrogen peroxide and painstakingly disinfected my foot. Her face was so close that her breath heated the cold patch she'd just cleaned.
I might have moaned again accidentally.
If your book was optioned for a movie, what scene would be absolutely crucial to include?
One of my absolute faves is when Dani, who has started reading Matt's books to find out what all the fuss is about, gets to the big sex scene, and her sister-in-law busts into her bedroom to talk about career stuff.
A knock sounded on my bedroom door.
Clearing my throat, I marked the page with a dog ear and quickly hid the book under my pillow. I set my reading glasses on the bedside table. "Una? Come on in." My voice came out all shaky and odd. I wasn't fooling anyone. Una would know for sure that I'd been reading an erotic scene about a young man's first sexual encounter with his mother's rival and his father's best friend. It had to be written all over my face.
Readers should read this book …
…if they're looking to escape into a cute story about finding love and family in unexpected places.
What are you currently working on? What other releases do you have planned?
I'm currently working on another rom-com, IT'S RAINING MEN, which will be out in July 2021. That book is about a woman who drunkenly texts all the men in her phone book that she's ready to settle down, and a few of them want to take her up on the offer.
Thanks for blogging at HJ!
Giveaway:

I will give away an e-book copy of my novel, KNOCKED-UP CINDERELLA.
To enter Giveaway: Please complete the Rafflecopter form and Post a comment to this Q:

What's your favorite holiday movie?
Excerpt from Write Before Christmas:
Matt's back and arms rose and fell with mine, in sync, as if we were one, solid organism. Each breath spread through my entire body—from my head into my lungs and all the way down deep into parts of me that had been dormant for way too long. This was more intimate than anything I'd done with my ex-husband in the months leading up to our divorce.
"You sure you're okay with this?" he whispered.
"Yes," I said. "This is fun. Exercise." Good lord, the rhythm of our breathing together was basically sexual.
"Now," Una said softly, "lengthen your torso upwards and, exhaling, twist to your right and reach for your partners left knee."
My shaking fingers grazed Matt's thigh and walked forward, hunting for his knee. His hand found my knee right away, and he gripped it with his warm, strong hand.
I let out a hopefully inaudible gasp.
"With the next inhale," Una said, "straighten your back some more, and then with your exhale, deepen the twist, using your partner's knee as leverage."
Matt's back pushed harder against mine, as I gripped the hard ball of his kneecap. His breath continued to move with mine, a little faster now, as we strained into our mutual twist.
"Now relax into the pose." Easier said than done, Una.. "Take a few more deep breaths."
We did. My left eye met Matt's, and he winked, diffusing the very palpable tension. I struggled not to laugh.
"On the next inhale, return to center." Una waited a few beats. "On your exhale, twist to the left and find your partner's right knee."
Matt's back muscles rippled against mine, as we turned to the other side. "This is the strangest thing I've ever done," he whispered.
"Oh, I think this is just the tip of the iceberg." I giggled.
"Shhh!" the person next to me hissed.
I turned toward them. "Sorry," I said, but now I'd broken the dam. I tried to choke back a laugh, but it came out as a snort, which sent Matt into a laughing fit, too.
Excerpts. © Reprinted by permission. All rights reserved.
 
 
Book Info:
You've probably heard of me.
Reclusive fantasy author turned famous when his series got developed into a mega TV hit.
Except now I'm way behind deadline, and the whole world is waiting to see what I'll write next.
The pressure is getting to me, and I. Can't. Write.
Cue: small town where people don't recognize me.
Cue: my assistant insisting on a personal chef to keep me fed and nothing more.
Cue: finding the first bit of inspiration I've felt in months whenever she's around…
Am I a walking cliche now, or what?
Dani Cooper seems to have her own hurdles to jump this holiday season. Newly divorced, looking for her next move. She's the first person who's seen me for me in way too long. And I see her, too–as way more than just an employee, a divorcee, a cook. She's becoming my muse…
But when my Christmas deadline hits, will it spell the end of us, too?
Book Links: Amazon |Goodreads |
 
 
Meet the Author:
USA Today best-selling, RITA nominated author Julie Hammerle writes romantic comedies for adults and teens. Before settling down to write "for real," she studied opera, taught Latin, and held her real estate license for one hot minute. Currently, aside from writing, she ropes people into conversations about Game of Thrones and makes excuses to avoid the gym. Her favorite YA-centric TV shows include 90210 (original spice), Felicity, and Freaks and Geeks. Her iPod reads like a 1997 Lilith Fair set list.
Website | Facebook | Twitter | Instagram |
Related