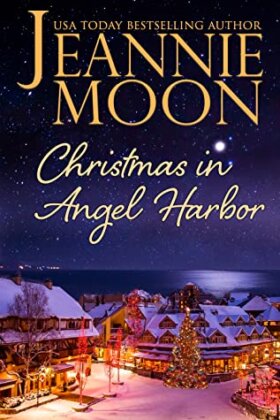 Twenty-five years ago, Jane Fallon put her rising career on hold to take over her family's bookstore after the death of her father. Throughout the years, she's transformed Angel Harbor Books into a place of comfort for her and her daughter, but when her landlord announces the building has been sold, Jane is faced with sudden uncertainty. If the bookstore is gone, what will she do?
As a young man, Dan Gallo couldn't get out of Angel Harbor fast enough. Now a best-selling novelist, Dan returns home after a tragedy derails his career. His first stop is his favorite teenage hangout—the local bookstore. It's almost exactly how he remembers it. But the girl who once worked there is now a beautiful woman whose smarts and spirit inspire him to write again, and open his heart to new possibilities.
With her world threatening to fall apart, Dan hopes that with the help of the town—and some Christmas magic—he can get Jane to see how important she is to the people of Angel Harbor…and him.
November on Long Island was unpredictable. Kind of like a woman.
One minute she was giving you attitude, the next she was warm and charming. The ever-changing weather showed that Mother Nature could be one moody customer. Within a week she could bring rain, sun, gale-force winds, warm temperatures, frost or snow. It was a far cry from the sunshine and warmth he'd left behind in Hawaii, but with each strike of his foot on the pavement, with each mile behind him, Dan Gallo was glad he'd come home.
Avoiding his life hadn't done anything to help the anger that still swirled inside him, at least not yet. There was a chance he'd start to settle once he established a new routine, but even when that happened, he wasn't going to tell anyone where he was. He'd left a string of pissed-off people since he'd gone off the grid, but Dan didn't really care. Angel Harbor, where he'd spent the first twenty-two years of his life before leaving for law school, was the perfect place to hide in plain sight. He was staying at the family house where his sister lived with her husband and kids. She was thrilled that he was going to be around for the holidays and gave him the small guest cottage to use for as long as he wanted.
The main house was a grand lady. An old Victorian with gingerbread trim, it was located just outside of town up a long hill that gave the upper floors spectacular water views. His cottage, while not big, was roomy enough and suited him fine. Compact and recently renovated, it had a bedroom, a living room, and a dining area with a small kitchen. It was the perfect place for Dan to get his head on straight and plan his next move.
Whatever that might be.
Long Island was steeped in stereotypes. Sure, there were McMansions where there used to be open space, and it was too crowded for its own good, but it really did have a lot to offer. With stunning and varied coastlines, history, agriculture, and great downtowns, at its core, the region was really just a bunch of small communities connected by their presence on a long skinny stretch of sand that jutted out into the Atlantic Ocean. Weighing all that, he didn't know why he hadn't come home sooner. The big plus? He'd been gone a long time, and no one really recognized him. If someone did, his current situation often made the person uncomfortable enough to leave him alone. Mostly, he could be anonymous here. Something that definitely appealed.
Pulling back his stride to take the hill, he turned onto Main Street and allowed the peacefulness of the view to seep in. Only a small breakfast place and the local deli were open this early, and the smell of bacon and eggs frying on a griddle wafted toward him. He'd already run three miles in the sleepy neighborhoods around his sister's house, enough to justify an egg sandwich from his favorite deli.
Turning toward the park, he figured he'd do a lap on the paths along the harbor to assuage any guilt that might crop up once he indulged in a breakfast that he'd thought about far too often when he was away from Long Island. Sure, he could get an egg sandwich anywhere, but not like this one. It was the little things about home he'd missed most. He'd learned the hard way that a good life was a collection of small experiences. While big and flashy might impress in the short term, the millions of tiny details about an experience were what mattered.
Maybe it was his age. Once he passed fifty, Dan's tolerance for nonsense dropped to zero. He liked things simple and uncomplicated. It was one of the reasons he'd sold his apartment in New York, and bought the house in Hawaii. The constant crush of people, the endless busyness, exhausted him. His beach house on Oahu was peaceful and quiet, but the solitude brought him no peace.
His reputation was as an enigma, a mystery man who only showed up when a book or a woman necessitated his presence, and his agent played it up. His latest author photos were black and white art shots that had him shadowed and sinister-looking.
As he ran, he observed his fellow early risers. He nodded to a pair of elderly women who were walking almost as fast as he was running. Their pace was impressive as they power walked in the morning chill, barely sparing him a glance. He could use that little slice of life. The story that was swimming around in his head needed the people and locations Angel Harbor provided. No more murder and mayhem. No more blood. Even if it did sell, Dan was done with it.
The sun decided to break through the low clouds, and from its position, just above the horizon, it cast tendrils of light over the water. Everything shimmered and sparkled in response. He stopped, taking a deep breath as he took it all in.
This place was his next book. He wasn't sure of the plot. He hadn't fleshed out the characters, but Angel Harbor was the setting. Turning, he could see clear up Main Street. It was idyllic, almost too perfect, but that's what he was in the mood for, and no one was going to tell him otherwise. Not this time.
From where he stood, he could see the candy shop, the toy store, and the local tavern—all three were decked out in holiday glitz way too early for his liking, but he had to give them a gold star for effort. In addition, he spied a few restaurants, an art gallery, and a tea shop getting in the Christmas spirit. But it was the bookstore, sitting quietly on the north side of Main Street, that captured his attention. It held so many of his memories. It lived in an old house, a two-story clapboard structure, painted a deep gray, that had converted nicely to retail space decades ago. It still exuded the same friendliness and warmth that had welcomed him when he was first figuring out how to tell a story. He could see the large-paned front windows displaying a variety of books for kids and adults, and the wraparound porch held a quartet of weathered rocking chairs that invited visitors to sit down and stay for a while.
"Keep your eyes open to possibilities." Isn't that what Mike Fallon had always told him? The former owner of the bookstore was a fountain of good advice. Whether it was about writing, or school, or girls, Dan had embraced Mike's philosophy for a very long time. Until he didn't, and that's when his life seemed to get away from him. He was so caught up in the life, that Dan forgot to live.
He'd spent hours in the store as a teen, writing in his notebooks, and hiding out from his jock friends to avoid being labeled as a nerd. They wouldn't understand why he wrote, and he didn't want to explain it to them. They were good guys, but putting words on a page was a lot different than executing a strategy found in a playbook.
Some of his quirkier habits developed when he was working at the round table tucked in the corner of the history section. Dan still wrote the first three chapters of any book longhand to get in the flow with the characters. He liked to use a cheap, blue ballpoint pen for the task, so a few years ago he bought a gross of the things and never traveled without at least a dozen in his bag. He always remembered how Mike would let him stay after closing to keep working, while the older man was cleaning up from the day. He made Dan promise that when he was famous, he'd come back and have a signing in the store.
He'd never gotten there, and the guilt of it gnawed at him. He was a multinational bestseller, which meant he got his way. Always. He could have pressed his publicist to arrange a signing at Harbor Books, but like so much else in his life, he didn't take the time to think about anything outside his own self-centered interests. Yeah, there were a lot of regrets rooted in that store. Dan would have to try and vanquish a few of them.
Done with his run, he made his way to the deli, and as soon as he walked in, the smell of bacon, eggs, and strong coffee filled his head. A group of men dressed in jeans, work shirts, and jackets were talking and laughing as they collected their coffees and sandwiches. The way they exchanged pleasantries with the woman behind the counter, Dan could see this was just a regular morning for them, and he found he was a little envious of the closeness and the routine. Each one nodded at him as he walked by, and he recognized Billy Scalino, one of those jocks he went to high school with. Billy's eye widened in surprise when he saw Dan, and he offered a pleasant greeting.
"Nice to see you, man." That was all he said, but Billy's greeting was indicative of the town as a whole. People were nice here. That didn't mean they wouldn't tell you where to go if you pissed any one of them off. Dan shouldn't have been surprised at the friendliness of the greeting, but a lot of years had passed between then and now. These men had better things to do—like making a living and raising their families—than to worry about some guy in the deli.
If he was going to do justice to his new book, a knock off the pedestal the industry had put him on would be useful.
In his head the story was starting to take shape. It wasn't going to be like anything he'd ever done, and he had plans to start today. Now that his setting was shaping up, the specifics had a place to go.
Jane Fallon made herself a cup of burnt sugar tea and let the smell of caramel and vanilla drift over her. She added a dollop of local clover honey and inhaled the sweet steam. As flavors mingled, Jane knew that, quandaries aside, it was going to be a good day. Maybe even a special one.
Something had been buzzing around her for the last week. She felt like there was a familiar presence in her space. Eerie and comforting at the same time, a sense of familiarity in the feelings had her wondering exactly what the day might bring.
With Halloween in the rearview mirror and Thanksgiving a couple of weeks away, Jane knew it was time to start prepping for the Christmas shopping season. Her vendors had been calling about last-minute orders, but the stock room was already overflowing with goodness. She had holiday cards ready to go out today, an ornament tree with a selection of gorgeous hand-painted decorations, gift books, pens, kids' books and puppets ready for shopping season. She was sorting out the decorations, which she would start putting up right before Thanksgiving.
A cold snap was on the way, and she was hesitant to let her uncle Joe, who was turning seventy-six in a few days, climb up on a ladder when temperatures with wind chill dipped to the single digits.
The bell over the front door of the shop jingled and right on time, she was greeted by her mom's sunny grin. Still an active part of the shop, even though it was officially Jane's, her mother kept her hand in some of the day-to-day operation.
"Good morning," Kathleen Fallon sang. "Wow! It's chilly! I think the temperature dropped ten degrees since the sun came up."
Unwinding her long, multicolored scarf, her mother hung it and her big wool coat on the hook just inside the office. She wore her unofficial winter uniform of jeans, duck boots, and a chunky sweater in navy blue. The woman looked like a coed, even with the mop of curly gray hair that framed her face. Jane hoped that in twenty-five years she'd be as eager to meet the day as her mother was.
"I know. I just checked the weather. It's going to be bitter tonight." Jane poured her mother a cup of her favorite Earl Grey tea, no sugar or milk. "I'm thinking I'll decorate inside a bit today."
"Good plan." Blowing on the hot liquid, her mother took a sip. "It's going to get warm again, well relatively, by next week."
"It's supposed to be beautiful in Santa Fe," Jane said, reminding her mother of the spa retreat she would be taking with her friends the following week.
"I know, but I'm still here for this round of cold. You know, I'll miss you and everyone in town terribly, but I will not miss the nasty weather once I move south for the winter." Gripping the mug with both hands her mom took another sip of tea. "What else are you checking off your list today?"
"I pulled some new mysteries for Dave's mom. If he comes in, they're right on my desk in the back."
"He's very sweet picking up books for his mother."
"He is, but that's the only thing I've done so far. I guess we'll see what the day brings. Was Chloe excited to see her friends at the groomer?"
"As always." Her mom had dropped Jane's Collie off for her monthly spa day. Normally at the store, Jane would miss her furry coworker today, but there was plenty to do and it was better the dog wouldn't be underfoot. Jane knew her mother would be prepping the children's room for the holidays, setting up special displays and putting out stashes of holiday favorites. After thirty-three years teaching kindergarten and first grade, the children's room was her mother's domain. Jane, on the other hand, spread her love of genre fiction and paper goods around the shop. Beautiful journals, pens, stationery, and cards drew in a lot of customers looking for unique gifts. There was a large selection of planners and calendars, and every week a group of women gathered in the common space to swap ideas and planner tricks. The shop carried all the big bestsellers, but Jane filled the shelves with her favorite mysteries, romances, historical novels, and memoirs.
Harbor Books was an institution in their little town. One of the oldest businesses on Main Street, there had been many changes since her grandfather opened his book and stationery shop during the Great Depression, but the Fallon family had adapted to each challenge.
Over the last twenty-five years, she'd brought the store to a new level—ironic because she'd never planned on owning the store, or making her life in Angel Harbor. But here she was, and as she faced a brand-new phase of her life, Jane wondered what was up next.
"Are all Tara's college applications done? I know she had some early deadlines."
"Finally," Jane sighed. Her seventeen-year-old daughter had complained through every one of them, agonizing over each essay. But now that most of them were done, tensions had lessened in the household.
Tara had always been stubborn. Curious and determined, she hadn't been easy to keep up with. Her daughter had shifting passions, jumping from one activity to the next. That all changed when she took a creative writing class at the beginning of her sophomore year. Like someone flipped a switch, it opened a whole new world for her daughter. Her talent—her passion—for the written word was the spark that moved her. She made good friends in the class—brilliant, creative kids like she was—and they brought her into the theater program, completely changing her trajectory. Jane's appreciation for the arts—and for Tara's gift—was rooted in her training in archeology. A civilization's art and literature told the story of its people, providing a view of the past that was deeper than historical events could ever show on their own.
"She's going to be fine, you know." Her mother was the endless optimist. Her years in the classroom made her secure in her belief that her granddaughter would figure things out. Of course, in her mother's eyes Tara could do no wrong, even when she was at her moodiest.
"I don't know what she's going to do with a writing degree, but what do I know?"
Mom chuckled. "The same thing you did with an archeology degree. She'll find her way."
That wasn't very comforting. While working in Scotland as a researcher with a renowned archeologist, Jane got the call that her father, Mike Fallon, had died. The staff job that was supposed to launch her career, the PhD program she'd had her sights set on since she was a freshman undergraduate, were both mothballed. Her dad's death pulled her home and it irrevocably changed her path.
Her friends, her career, her aspirations were gone. Jane had adjusted, pivoted into a new role, but there was always an inkling of regret.
She took up the mantle at the bookstore and moved back in with her mother, who was devastated by the loss of her husband. Eventually, Jane married badly, and divorced quickly. However, the bright light in all of it was Tara.
Once the baby came, there was no returning to her dream of traveling the world and learning about ancient civilizations, but she never doubted that her little girl was an amazing gift, and always would be. Difficult times and all, Tara was at the center of everything she did. Jane would never regret becoming a mother.
"You're drifting," her mother stated quietly. "Where's that boat headed today?"
"Nowhere." Jane shook off her wanderings with a smile. "I'm going to drift myself into the stockroom. I want to double-check my gift inventory."
From the sidelong glance sent in Jane's direction, her mother didn't believe her. There was no reason she should. Her mom was many things, but clueless wasn't one of them. She could always tell when the people she cared about were brushing off her concern. "Right," Mom said. "You make sure you have enough crystals and bookmarks."
"You forgot the journals and dreamcatchers," Jane retorted as she walked to the back. The gift section was an ongoing tease with her mother. Jane had set aside a small corner of her shop to indulge her need for beautiful things. The section was called Modern Artifacts. Not that books weren't beautiful, but the color and light brought in by the locally crafted candles, crystals, textiles, and paper goods made her feel more connected to the world outside her small corner of it. "Tracy should be in soon. She can give you a hand with the children's room."
Her best friend, Tracy Kelly, had been a fixture in Jane's life since they'd landed in Mrs. Sherman's kindergarten class at Woodbury Avenue School. Obsessed with the large playhouse and the endless possibilities the magical classroom provided, Jane and Tracy had a formed a bond that was more sisterhood than anything. Jane was an only child, and Tracy had brothers, so the two girls grew up together, weathering every storm along the way. In the toughest times, they were there for each other. When her last child had left the nest for college five years ago, Tracy transitioned from part-time employee to Jane's right hand at the bookstore.
Once in her office, Jane picked up a heart-shaped piece of hematite. The stone, a gift from her friend Claire, was smooth as silk and cold to the touch, at least initially. After a minute, a tingly warmth would radiate up her arm. It grounded her, and spending a little time in the quiet, holding a piece of the earth, let her collect her thoughts. Her grandfather called it woolgathering, and Jane found comfort in it. The dreams of her youth may not have come to fruition, but she couldn't help thinking that the course change was for a reason. Understanding that didn't stop her from ruminating, and sometimes feeling sorry for herself, but she no longer wondered what could have been. Life had a funny way of putting you where you needed to be.
After she breathed out several times long and slow, Jane's eyes were drawn to the crystal angel that sat on the shelf above her desk. Setting down the stone, she reached for it. It belonged to her father and before that to her grandfather. Each of them kept it in the bookstore, right in this spot.
Tradition was beautiful, and Jane respected the Fallon legacy, doing her best to keep it alive and well.
But changes were coming, and Jane knew there was no way to stop them.
Excerpt. ©Jeannie Moon. Posted by arrangement with the publisher. All rights reserved.
 
 
USA Today bestselling author Jeannie Moon has always been a romantic. When she's not spinning tales of her own, Jeannie works as a school librarian, thankful she has a job that allows her to immerse herself in books and call it work. Married to her high school sweetheart, Jeannie has three kids, three lovable dogs and a mischievous cat and lives in her hometown on Long Island, NY. If she's more than ten miles away from salt water for any longer than a week, she gets twitchy.
 
Buy: Amazon | B&N | iTunes | Kobo | Google