Today it is my pleasure to Welcome author
Nicole Locke
to HJ!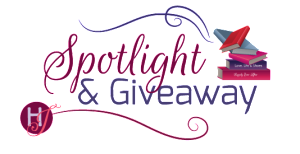 Hi Nicole and welcome to HJ! We're so excited to chat with you about your new release, The Maiden and the Mercenary!
 
It's lovely to be here!
 
To start off, can you please tell us a little bit about this book?: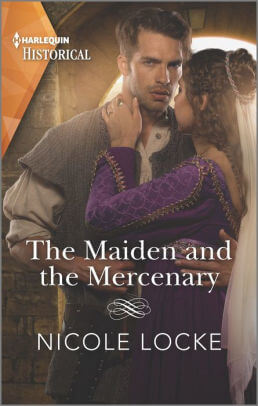 This is a story of one castle, and Louve, who's a mercenary but pretends to be a servant so he can steal a scroll in the castle, and Biedeluue, a servant who…well…is a servant, but is actually there to rescue her sister who is a prisoner in this castle. Needless to say, they have two opposing goals, get in each others way (in more ways than one), and fall in love.
 
Please share your favorite lines or quote(s) from this book:
'Louve dropped her.'
I don't know if it's my favorite line, but it was sure fun to write about. You see, Louve's pretending to be a weak servant, and Bied is up to no good, so when she falls from a tabletop and he catches her all is well…until someone catches them. He has two choices: either keep hold of her and break his role of a weak servant or…let her fall. He lets her fall. Needless to say, she's not very happy with him afterward. Antics ensue.
What inspired this book?
It's the time period. Medieval just lends itself to urgency and passion. I'm grateful to have toured many castles and gotten to revel in the history of it all.
How did you 'get to know' your main characters? Did they ever surprise you?
Louve has been a recurring character in other books. He's full of vanity and laughter, but he's a tortured soul and I knew whatever I wrote had to be worthy of all that he's gone through. Bied's just the counterpart to him: fiesty and full of gumption. When he offers his body, she takes it. When he wants her heart? She tells him, he'll have to earn it.
What was your favorite scene to write?
Anything in the linen closet. Louve and Bied had a good time in the linen closet…and I had a good time figuring out what's in there they could use.
What was the most difficult scene to write?
The ending! I had a terrible time saying goodbye.
Would you say this book showcases your writing style or is it a departure for you?
This book is definitely what the Lovers and Legends series is all about. A standalone that offers antics, intrigue, independent heroines, and heroes who don't see them coming.
What do you want people to take away from reading this book?
You're life is not always going to go to plan. That's okay. It's the surprises along the way that bring the joy.
What are you currently working on? What other releases do you have planned?
I'm very excited about what's coming out next! Both of the next stories come from The Maiden and the Mercenary. All books are standalone, but if there's an interesting secondary character? Yeah…I have to write their story! So in April next year, Balthus' story will release as The Knight's Runaway Maiden. After that will be Evrart's. Sigh…Evrart.
Thanks for blogging at HJ!
Giveaway:

One signed copy of The Maiden and the Mercenary. International entries welcome!
To enter Giveaway: Please complete the Rafflecopter form and Post a comment to this Q:

If you could steal (or be gifted!) something from a castle, what would it be?
Excerpt from The Maiden and the Mercenary:
Chapter 1, scene 1

Biedeluue wiped the back of her hand against her mouth and concentrated on the tower of goblets stacked on the well-worn table before her. The chanting crowd around her and her challenger jostled for a closer position and she shoved back.
'These hips of mine aren't moving for anyone!' She brandished the goblet in her hand and they all stepped merrily aside.
'I'll move your hips!'
Galen winked one eye, then the other much more slowly. Ah, not winking, but trying to focus through the haze of ale, like her.
'Attempting to move my hips when drunken is how you first fell to misfortune, Galen.' She pointed somewhere in the vicinity of his stack. 'Now, let's see how you apply yourself with smaller…goblets.'
'As if he could be so fortunate!' shouted Tess, from the baking ovens.
Someone clapped and everyone from the wafer maker to the cup bearer howled. The kitchens were normally bustling, but now, even the doorways were crammed with field people. The kitchens were as large as kingdoms, but even so, she heard a crash to her right as the crowd moved and several heads whipped around to see the destruction.
She didn't, however—any quick movement was ill-advised. How many gulps of ale had she had? She'd stopped counting after twenty, trusting the betting crowd had their own vested interest to keep track of the game.
It was up to her to stack the goblets for each gulp of ale. She narrowed her eyes at the wavering mound. Ten…twenty? Oh, maybe twenty-five gulps of ale.
Which meant Galen, the challenger, had also had twenty-five… No, he'd just thrown back another and grabbed a goblet to stack on top of the tower he'd made.
Damn him, his height and those arms that were twice as tall and…twice as many as he had before. Four arms? An unfair advantage to be sure!
'No helping!' she called out as Henry sneaked a supporting hand to Galen's back when he staggered backwards.
Henry lifted both his hands and she nodded her head at him in satisfaction. A mistake, which she fixed by widening her stance.
If Galen fell, she won. If Galen toppled his goblets before her, she won. And if she won, she got… She got…
She'd win! She liked that part the best. Right now she needed to win. It was important because she wasn't winning at anything else and there was more at stake here.
Excerpt. © Reprinted by permission. All rights reserved.
 
 
Book Info:
Keep your friends close…but your enemies closer?
In order to find a legendary treasure map, mercenary Louve of Mei Solis must infiltrate his enemy's fortress under the guise of a servant. There, Louve meets beautiful maiden Biedeluue, a fellow servant with her own hidden agenda…to save her sister from the malevolent lord's clutches! Their high-stakes missions may be at odds with one another, but their attraction cannot be denied even in this most dangerous of situations…
Book Links: Amazon | B&N | iTunes | Kobo | Google |
 
 
Meet the Author:
Nicole Locke is the author of Harlequin Mills and Boon Lovers and Legends and The Lochmore Legacy series. For more information about her, catch her website nicolelocke.com and follow her on Facebook, Twitter, Instagram!
Website | Facebook | Twitter | Instagram | GoodReads |
Related