Today, HJ is pleased to share with you

Emma Hart's

new release: 

The Bookworm's Guide to Faking It

What I expected on Saturday morning: Books.
What I got on Saturday morning: my ex-best friend and first crush in front of me.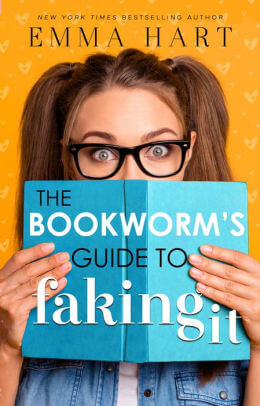 Let it be known that I, Holley Stuart, do not give a single rat's behind about pro baseball's star pitcher Sebastian Stone.
I definitely don't care that he's standing in my bookstore.
Nor do I care that he seems to have forgotten about the last time we saw each other—senior prom, when he both humiliated me and broke my heart, albeit unknowingly.
Now, he needs a date to his sister's wedding.
Don't ask me how I ended up being it, because I have no idea. But that's the least of my problems.
His grandfather is adamant we're dating, and Seb isn't in a hurry to convince him otherwise, so I have no choice but to go along with it.
The problem? The only thing I've ever faked is… well, you know.
I've definitely never faked my feelings for someone.
And judging by the way I feel whenever Seb looks at me, it doesn't look like I'm starting now…
Enjoy an exclusive excerpt from The Bookworm's Guide to Faking It 
"I read."
"Sports news doesn't count."
"I still read."
"What was the last book you read?" I asked, leaning back against the headboard. "Go on. Shock me." His smirk let me know he was about to do just that.
"Read Game of Thrones. Took me two months to get through the first one, but I eventually read them all."
Wow. Okay. Fair enough.
"What's the matter, Holley? Bookworm got your tongue?" His shit-eating grin was almost begging me to slap it off his face.
"Shut up," I mumbled. "Since when did you read?"
"Well, when you tear your rotator cuff and can't do a whole bunch of stuff, you have to find other ways to occupy your time," he said dryly. "And as far as hobbies go, reading isn't all that dangerous."
"Have you ever fallen asleep while reading and dropped a book on your face? That's pretty dangerous. It hurts."
"Why are you falling asleep while reading?"
"Because 'one more chapter' turns into ten more chapters."
"It's not hard to stop after one more chapter."
"That's the difference between you and I, Sebastian. You can stop reading. I cannot, therefore resulting in a severe lack of a respect for the thing known as a good night's sleep."
He leaned back on his hands and grinned. His smile made his eyes sparkle, and it was really quite irritating.
"And an extraordinarily serious lack of self-control." I tapped the side of my nose with one eyebrow raised.
"Now you understand."
Excerpt. ©Emma Hart. Posted by arrangement with the publisher. All rights reserved.
 
 
Giveaway:

Signed copy of The Bookworm's Guide to Faking It open internationally
To enter Giveaway: Please complete the Rafflecopter form and post a comment to this Q:

What did you think of the excerpt spotlighted here? Leave a comment with your thoughts on the book…
Meet the Author:
Emma Hart is the New York Times and USA Today bestselling author of over thirty novels and has been translated into several different languages.
She is a mother, wife, lover of wine, Pink Goddess, and valiant rescuer of wild baby hedgehogs.
Emma prides herself on her realistic, snarky smut, with comebacks that would make a PMS-ing teenage girl proud.
Yes, really. She's that sarcastic.
 
Series Amazon: https://amzn.to/3gDoUlk
TBR: http://emmahart.pub/TBGTFI-GR
Amazon US → https://amzn.to/3eFnxlb
Amazon UK → https://amzn.to/3dqG1UT
Apple Books → https://emmahart.pub/TBGTFIapple
Nook → https://emmahart.pub/TBGTFInook
Kobo → https://emmahart.pub/TBGTFIkobo
 
 
 
Related