The Innocent Behind the Scandal is a December 2020 Harlequin Presents release by the incomparable Abby Green and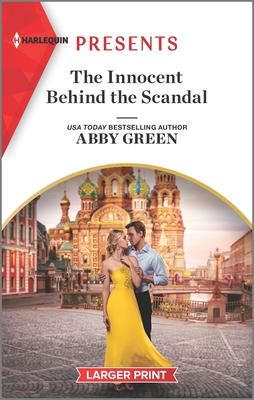 book two of the Marchetti Dynasty trilogy.
Dramatic beginnings captured me from page one. Zoe is discovered crashing a fashion show and takes the wrong pic at the wrong time of the wrong person. Launching her into the stratosphere of Maks Marchetti I was taken on a beautiful worldwide trip including London, Russia, Venice and Paris and back again. As only Abby Green can do heart strings were tugged along with the inevitable twist that is always hiding around the corner.
I really liked Maks, he was different and a great addition to the Marchetti family of which I'd caught glimpses of in Book 1. I loved Zoe's differences and I'm glad she found someone like Maks to make her one again and I loved the Epilogue. I liked the journey and I really liked how they were both strong personalities.
The stunning cover deserves a star all on its own. The stunning yellow dress and the backdrop of Russia is as wonderous as the words inside. Abby Green is queen of descriptive narrative and placing me all over the world in one of her stories and it's why she's always been a favourite of mine. I cannot wait for book 3.
 
Book Info:

Publication: December 2020 | Harelequin Presents | The Marchetti Dynasty Book #2
From London to St. Petersburg… Everyone is talking about this couple!
Photographer Zoe Collins is ready to be awakened at the hands of charismatic billionaire Maks Marchetti. She's been hurt one too many times and is determined to protect her heart, but she's done with protecting her virginity!
Maks has never met anyone who intrigues him like Zoe. Orphaned and innocent, yet she seems almost as cynical about love as he is. A fact that makes their nights together dangerously addictive. But can a bond forged in the bedroom withstand an exposé in the headlines?
Read all the books in The Marchetti Dynasty series:
Book 1 — The Maid's Best Kept Secret
Book 2 — The Innocent Behind the Scandal
Book 3 — Coming soon! (less)

Related