Ten Things I Hate About the Duke by Loretta Chase is the second book in the Difficult Dukes series but was terrific as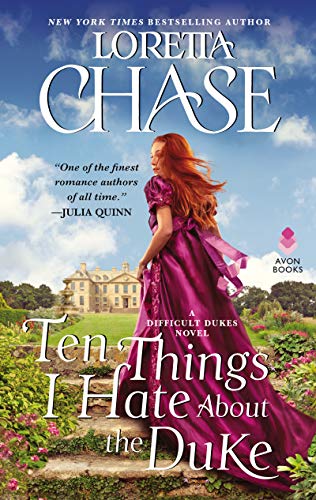 a stand-alone. It has been a while since I have read anything new by this author and this book reminded me of how talented Loretta Chase is. Her style of writing makes you feel like you are watching a play while sitting in the front row. They catch your attention in the beginning and keep it until you get to the end and then you wonder how you were able to finish the book so fast. Her stories are full of witty dialogue, heroes needing redemption, and feisty, opinionated heroines!
Cassandra Pomfret, the eldest daughter of Lord deGriffith, fell in love with Lucius, the Duke of Ashmont, one childhood summer when he rescued her from a bully. She thought he was a hero but as she grew up her illusion ended as his reputation as a libertine, outrageous pranks and troublemaking stories grew. Her family was in London since her younger sister, Hyacinth, was to have her come-out but their father refused to let her participate in the Season while Cassandra remained unmarried. Cassandra's come-out was years ago and she quickly became known as Medusa, deGriffith's Gorgon, and Cassandra Prophet of Doom with her direct speech and opinions. Her outlandish behavior scared potential suitors away until Lucius turns her world upside down by causing her carriage to crash, her maid to run off, and kissing her behind curtains. When Cassandra's reputation can only be saved by marriage, she proposes they become engaged and break it off later once the gossip has passed.
Lucius was known as one of the three Dis-Graces and their libertine ways and troublemaking were well known in Society. Lucius's fiancé had run off before their wedding started five days ago and married his best friend, the Duke of Ripley. After their duel, Lucius could not get rid of the memory of Ripley almost getting shot and dying, no matter how much he drank. When he stumbles out of the Green Man Inn and fires his pistol, he causes mayhem as Cassandra's carriage crashes and injures her groom. He decides the best way to save her reputation is for them to get married. He figures he was planning on getting a wife anyway but when he suggests this to her, he must duck a flying teapot. Lucius follows his uncle's suggestion and returns to London after paying the servants to say he was never there. He tried to give her time to get over her anger, but he was afraid of someone else winning her affection. When they are caught kissing and she suggests a fake engagement, he knew he must convince her to make it a real engagement. He was determined to win her respect, esteem, and love even if he had to do it one point at a time.
I absolutely loved this book and I enjoyed seeing Lucius's character grow and become more aware of the struggles women and the poor face every day. He became a better person just like Cassandra knew he could. The author gave us some hints about the next book which leads us into the Duke and Duchess of Blackwood's story, which I can't wait to read.
Book Info:

Publication: December 1st 2020 | Avon | Difficult Dukes #2
This time, who's taming whom…
Cassandra Pomfret holds strong opinions she isn't shy about voicing. But her extremely plain speaking has caused an uproar, and her exasperated father, hoping a husband will rein her in, has ruled that her beloved sister can't marry until Cassandra does.
Now, thanks to a certain wild-living nobleman, the last shreds of Cassandra's reputation are about to disintegrate, taking her sister's future and her family's good name along with them.
The Duke of Ashmont's looks make women swoon. His character flaws are beyond counting. He's lost a perfectly good bride through his own carelessness. He nearly killed one of his two best friends. Still, troublemaker that he is, he knows that damaging a lady's good name isn't sporting.
The only way to right the wrong is to marry her…and hope she doesn't smother him in his sleep on their wedding night.

Related