His Last-Chance Christmas Familyby Michelle Major is the third book in her Welcome to Starlight series. This story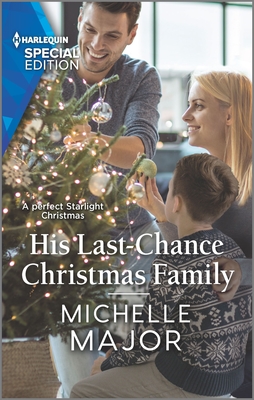 is a combination second chance/surprise baby theme.
Brynn got pregnant in her teens. She married Daniel, her baby's father but it wasn't a good marriage. He cheated on her a lot.
Five months ago her husband died in a car crash along with his mistress. Well, one of his mistresses. Readers will get to meet the second mistress and her baby in this story. Brynn and her ten-year-old son Tyler are still finding their way after Daniel's death. Then Nick Dunlap came back into Brynn's life. They had been best friends and that morphed into Brynn having a major crush on Nick in high school. That didn't lead to anything serious, especially after she got pregnant by Nick's friend Daniel. Circumstances have brought them back together again. Brynn has to admit to herself that high school crush on Nick was really a matter of starting to fall in love with him. After all this time can he return her love is the question.
Nick Dunlap is the police chief in Starlight. When he left Starlight for college he had no plans to return but then his brother was killed in Afghanistan and six months after that his father had a massive heart attack and died. Nick returned for his mother's sake. He's had an okay life. Seeing Brynn after her husband's death made him want to rekindle their close friendship but he can't think that way. It's all his fault Brynn got stuck with her cheating husband. He encouraged her to date Daniel back in high school. His friends keep trying to talk him into admitting he loves Brynn. Could he really love her?
I was very surprised when baby Remi appeared in the story. This made for a super storyline. Both Brynn and Nick are very likable characters. Brynn is a super mom and how she steps up after her husband's death is inspiring. Nick needed to realize what happened in Brynn's life wasn't his fault. Brynn owned up to her choices. I love this author's voice and look forward to more of her stories.
Book Info:

Publication: December 1st 2020 | Harlequin Special Edition|
A perfect Starlight Christmas
Is this Christmas the perfect time for their last chance?
Widowed after an unhappy marriage, single mom Brynn Hale has finally returned home to Starlight. She's ready for a fresh start for her son, and what better time for it than Christmas? Still, Nick Dunlap is the one connection to her past she can't let go of. Nick let his status-conscious parents talk him out of pursuing Brynn in high school and he's not sure he deserves a chance with her now. But the magic of the season might make forgiveness—and love—a little bit easier for them both…
From Harlequin Special Edition: Believe in love. Overcome obstacles. Find happiness.
Welcome to Starlight
Book 1: The Best Intentions
Book 2: The Last Man She Expected
Book 3: His Last-Chance Christmas Family

Related