Today it is my pleasure to Welcome author
Amber Daulton
to HJ!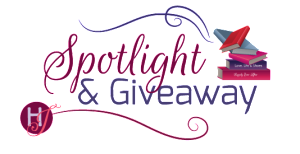 Hi Amber and welcome to HJ! We're so excited to chat with you about your new release, Harmony's Embrace!
 
Hey! I'm happy to be here.
 
Please summarize the book for the readers here: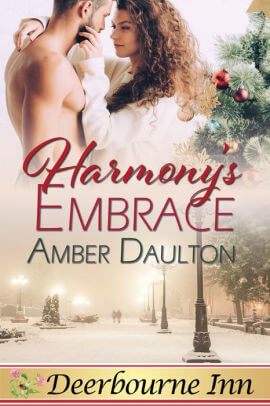 After the death of her unfaithful husband, Harmony Holdich is moving across the country to start her life over. But first, she heads home to Vermont to visit her uncle for Christmas. There she meets up with her high school sweetheart, Birley Haynes, and her life is about to turn upside down. Again.
Birley doesn't have time for relationships. He's too busy raising his kids and managing the family business, the Haynes Music Academy. But Harmony isn't just any woman. She's the love of his life. How can he convince her to give love—and him—another shot when she's only passing through town?
 
Please share your favorite line(s) or quote from this book:
"Dance with me?"
Her husky entreaty ricocheted through him like a ping-pong ball. How could he deny her? He gripped her waist. She slid her arms around him. They swayed, their bodies a scant inch apart. She nuzzled his neck, her breath fanning his skin. His hair prickled. The air crackled around them. He shuddered and held her tighter.
"I've missed this."
His chest heaved. He struggled to fill his lungs with air. "Dancing?"
"Dancing with you."
Please share a few Fun facts about this book…
Fact One – Harmony's Embrace is the standalone follow-up to Lyrical Embrace, and both novellas are in the multi-author Deerbourne Inn series.
Fact Two – When I was plotting book two, I knew exactly who my hero was going to be. Birley is a workaholic father who's being pulled every which way. His character, flaws and all, came to me easily.
Fact Three – Harmony was a tad more stubborn. Okay. A lot stubborn. I juggled so many ideas about who she should be, including: Birley's ex-wife, a stranger coming to town, or an old flame who Birley never stopped loving. I eventually decided on lucky number three, and it only took me a year to figure that out. Yeah, like I said, she was really stubborn. Once I finally nailed down her character and her motivations, the rest of the plot fell into place like clockwork.
What first attracts your Hero to the Heroine and vice versa?
Harmony and Birley first met in elementary school and were smitten from day one. They were best friends, but emotions change and hormones go wild when kids grow up. She was spontaneous and he was levelheaded, so they completed each other.
As adults, that still rings true. She needed something—rather someone—steady in her life, and Birley needed to let loose and have fun.
Did any scene have you blushing, crying or laughing while writing it? And Why?
I always get emotional when writing heart-to-heart scenes or when the hero and heroine are arguing (my emotions run just as high as theirs), so I was especially teary-eyed when Birley's vindictive ex-wife, Susannah, shows up from out of the blue and ruins Harmony's special night with him and his kids.
I hope you enjoy this brief excerpt:
Oh my God. Was he serious? Playing nice she understood, but how far did he take it? "There is a fine line between protecting your children and flat-out deceiving them, Birley." She forced down a growl as he rolled his eyes. She smacked her chest. "Think about me for a second. I'm the outsider here. I'm nobody to your kids."
"You're my support. I need you to keep me calm."
"Support? Ha! You're putting me in the middle of an awkward situation. Susannah hates my guts." She walked across the room and grasped the counter, her hands trembling. The happy green sprinkles on the cookies mocked her. She flipped back around. "I want to support you, but I'm not going to keep my mouth shut when things need to be said. Why does she think she has any right to barge into your life—their lives? Will this time be any different from the last? You're allowing her to hurt them."
He snapped his shoulders back. His brow furrowed. "I can handle the fallout. I've been doing it since before the divorce."
"There shouldn't be any fallout. Why—"
"Damn it, Harmony. Enough. I'm their parent. Not you. I know what I'm doing."
He couldn't have hurt her more if he slapped her. Tears smarted her eyes. She ducked her head before he could see the waterworks.
"Hell, I'm sorry." His voice softened.
She drew back, lifting her hand. "You're right. I'm nobody's mother, so I shouldn't lecture you. Thank you for reminding me."
Readers should read this book….
Because love always deserves a second chance.
What are you currently working on? What other releases do you have in the works?
I'm currently working on a novella in my Arresting Onyx series. I hope it will be available sometime next year.
Thanks for blogging at HJ!
Giveaway:

I'm giving away an ecopy of Lyrical Embrace (the first book) to one commenter. 
To enter Giveaway: Please complete the Rafflecopter form and Post a comment to this Q:

Do you read Christmas romances all year long or just during the holidays?
Excerpt from Harmony's Embrace:
Harmony bolted upright. A piercing beep blasted her eardrums. "What the hell?"
"Get dressed. That's the smoke alarm." Birley launched to his feet. Moonlight sharpened the rigid planes of his back as he grabbed his clothes. He scowled at her, his irises glinting. "Now."
"Right." She scurried from the bed and yanked on her sweater and pants.
He booked it out of the room, then returned and tossed Harmony her jacket. He'd already buttoned his coat haphazardly across his chest.
She jerked on the jacket and her boots, her pounding heart striking her ribcage.
He looped her fuzzy scarf around her neck before pulling her down the hall.
"I don't smell smoke." She shivered. The alarm blared from the living room ceiling, and a built-in light flashed red like a demonic beacon in the darkness. No puffs of gray filled the apartment, but what about downstairs? She headed toward the main door.
He tightened his grip on her arm, stopping her. "All the alarms are linked, upstairs and down. Go out the back. I'll check downstairs."
"Hell no. We stay together."
"Don't fight me on this. Get going." He pressed a quick kiss to her lips, then pushed her toward the kitchen. After he lightly touched the doorknob, testing it for heat, he jerked open the main door and hustled down the stairs.
Harmony bit her lip. She clutched the kitchen doorjamb, but the back door might as well be bolted shut. No way would she leave him in a burning house. She strode back across the living room. The narrow staircase widened as she descended. Another blinking red light cast shadows along the paneled walls. She gripped the rail for balance. The shrill, intermittent beeps quickened her pulse. Each pause of silence was a godsend, but the whistling and crackling of fire seized the coveted peace.
She tapped the doorknob. Whew! It was cool to the touch. Fire thrived on ventilation and oxygen, so she hurried into the hall and closed the door to protect the upstairs. Tendrils of smoke wafted along the ceiling. Her nose twitched. Where was he? A whooshing noise split the air. She raced toward the pipes practice room. Heat slicked her brow. Flames lit the darkness. She gasped and clutched her chest from the open doorway.
Birley aimed an extinguisher at the flames licking the walls, but the fire was spreading faster than the white foam could cover. Water sprayed from the sprinklers and slicked back his hair. A draft from the broken window whipped the flames, which ignited a stack of fallen sheet music. He stomped on the papers, smothering the sparks.
What the hell was he thinking? The acrid stench of gasoline and gray smoke stung her nostrils. She coughed, spitting mucus on her sleeve, and jerked her scarf over her mouth and nose. Sweat trickled down her back. Her eyes watered. The muscles in her neck and shoulders pulled so tight she ached. Glass shattered in another parlor, and she jumped.
"Birley! We have to go."
Excerpt. © Reprinted by permission. All rights reserved.
 
 
Book Info:
Divorced dad Birley Haynes is too busy raising his children and running his family's music academy to start a relationship. Then Harmony Holdich, his high school sweetheart, returns home to Willow Springs, Vermont for Christmas and falls into his bed. She brings light and fun back into his life, but he can't brush aside the threatening incidents around his workplace.
Harmony hadn't expected a complication like Birley, especially so soon after the death of her unfaithful husband. With her life a mess, she plans to move across the country and start over. All she can offer him is a fling, but her heart yearns for more.
When the threats rise, how will Birley keep his children safe and convince Harmony to give love another chance?
Book Links: Amazon | B&N | iTunes | kobo | Google |
 
 
Meet the Author:
Amber Daulton is the author of the romantic-suspense series Arresting Onyx and several standalone novellas. Her books are published through The Wild Rose Press, Books to Go Now, and Daulton Publishing, and are available in ebook, print on demand, audio, and foreign language formats.
She lives in North Carolina with her husband and demanding cats.
Website | Facebook | Twitter | Instagram | GoodReads |
 
 
 
Related