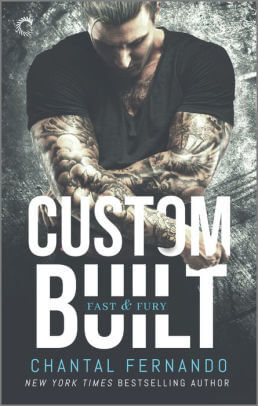 After losing her job, saying goodbye to a lifelong dream, and having an all-around cruddy year, Bronte Pierce needs a break. A job at Fast & Fury might be just the thing to reset her life, even though she knows nothing about custom motorcycles. But taking a job isn't the same as keeping it, and her fresh start quickly turns into a fresh nightmare.
Starting with her boss. Crow is hard-headed, stubborn and brutally honest. He may be easy on the eyes, but he runs with an MC, and he's anything but friendly to Bronte. She suspects he has a softer side—just not for her.
Her whole life, Bronte has known that the only person she can truly count on to save the day is herself. But when a single murder turns into a conspiracy and the threat to her life is more than she can handle alone, it's Crow who comes through—and her newfound family might just become her greatest strength.
Stepping inside, I kind of wish I'd dressed up a little more. I barely put on any makeup other than some mascara and highlighter, my hair wild down my back. Billie's obviously a little more prepared, fitting in perfectly in her dress and heels.
"Have you been here before?" I ask, leaning on the glass bar and waiting to be served.
"Nope," she replies, looking at the dance floor. "I think it's new, that's why it's so busy. Pretty cool, though, huh?"
"Yeah," I have to admit. It's playing the type of music I love, R&B and reggae, and my hips move to the beat of their own accord. "What's it called again?"
"Kamikaze," a familiar voice answers from be¬hind me. My head snaps back so fast I'm surprised it doesn't break.
What are the chances I'd run into his ass tonight?
"Crow," I say, ducking my head.
Billie looks over my shoulder, eying him. "Hello."
Sighing, I say, "This is Billie. Billie, this is Crow."
I hate when people don't introduce other people. I find it extremely rude, so I make sure I get that out of the way immediately.
"Nice to meet you," Crow says to her politely, then brings those ocean-blue eyes back to me. "I thought you weren't much of a drinker."
"I'm not," I reply, lifting my chin and narrow¬ing my eyes. "That doesn't mean that I never have a drink. This your new hunting ground?"
His lip twitches. "Something like that. We actu¬ally just opened this place."
"What don't you own?" I grumble, scanning the place in a new light. The Knights must make a shit-load of money, because it seems like they have their fingers in all kinds of pies.
"She doesn't drink," Billie pipes in, smirking. "Or leave the house. I had to drag her ass out tonight."
Crow grins and signals the bartender. "Tough week at work, Bronte?"
"Something like that," I mutter, checking him out in his black shirt and jeans. "Run out of hideously printed shirts?"
He orders two margaritas and a whiskey, then turns his attention back to me. "That's more my day attire."
"Good to know."
"He's really fucking cute," Billie whispers so only I can hear. "And the way he's looking at you…"
I nudge her, needing her to be quiet because that's the last thing I need him to hear.
He slides us each a margarita. "We have the best cocktails in the city, and these are supposed to be the highlight."
"A little biased," I reply, arching my brow. "But thank you."
Taking a sip, the salt hitting my tongue, I have to agree that it's a pretty great drink. "It's good."
"Good? These are amazing." Billie beams, step¬ping out from the side of me to see Crow better. "This is going to be my new place."
"Bronte!" Cam calls out, running up to me from the dance floor and giving me a big hug. "I didn't know you were coming out tonight. Do you know I haven't stopped raving about the cake you made me? I think it's the best chocolate cake I've ever eaten. I was pissed when Crow ate the hugest chunk out of it."
"I'm glad you liked it." I smile, then introduce Cam to Billie.
"Is everyone who works at Fast & Fury good look¬ing or is it just me?" she asks Cam, after downing her margarita and placing it down on the bar. "Next round is on me. What do you all want?"
"I think I'm good for now, Billie." I still haven't even finished my cocktail. Cam, on the other hand, decides to be her drinking buddy, saving me from a hangover tomorrow.
Crow leans down to speak into my ear, sending shivers up my spine. "Want to dance?"
"Ummm." I don't know if this is a good idea, for many reasons. In fact, there's a whole list.
He's my boss.
I have to see him every day.
He's in a biker club. Let's not forget that little tid¬bit, shall we?
He takes my hand. "Come on, show me your moves."
"Okay, one dance."
The words somehow leave my lips. Maybe because it's what I really want. Maybe it's the seductive music.
Maybe because I need something for me.
Once dance won't hurt, right? There's nothing wrong with a little friendly dancing.
Crow leads me to the dance floor, smack bang in the middle, and pulls me toward his chest. Not too close, but just close enough that it feels intimate. That damn cologne of his teases me, all of my senses clouding my judgment. Losing myself in the beat, I gently move my hips, a slow tease, while he moves with me. He's a good dancer, surprisingly. I like it when a man lets you guide the pace and doesn't try to overdo it. Less is more, and he seems to know that, but he still moves in rhythm, sensually so.
"You look surprised," he says, eyes filled with amusement…and a dash of heat.
"I am," I confess, boldly wrapping my arms around his neck. "Not only at the fact that you asked me to dance, but the fact that you actually can dance."
"I shouldn't have asked you," he admits, hands finding their way to my hips and squeezing gently. "At work I've put you in a 'do not touch' box, but now you've stepped into my other world."
I'm unsure what to say to that, but I see what he means. At work we know what we're supposed to be doing, we know what the boundaries are, but now we've left the safety of those boundaries. I recognize annoyance to him and one I tried to avoid, not that I lasted very long. There's some chemistry there, but that doesn't mean we need to act on it.
"You don't have to say anything, it's just a dance," he whispers, as if reading my mind, spinning me around and pulling me back against his chest, this time my back pressed against him.
And he's right; it could be just a dance.
A dance that made time stand still.
I could walk away from here, from him, and pre¬tend this never happened, and we could go back to work on Monday and act like we have been.
The song comes to an end, his fingers leaving my body, my arms lowering, but our gazes remain locked. I don't know what it is about him. It's much more than his looks—I know because I feel our connection in my chest, not just farther south.
I mean, I feel it there, too, but that's not all there is.
Flashing him a small smile, I take his hand and lead him back to the bar, where Cam and Billie are doing Patrón shots.
"I left you alone for five minutes," I say to them both, Billie sliding me a shot in response.
"We were feeling a little parched after watch¬ing that grinding on the dance floor," she says, wig¬gling her brows at me. "My, my, Bronte, I don't think I've seen those moves in a long time. Not since high school."
My best friend has no filter, and it's a fucking problem.
I turn to Crow. "Another dance?"
Apparently I don't even need to be drunk to make bad decisions.
Excerpt. ©Chantal Fernando. Posted by arrangement with the publisher. All rights reserved.
 
Chantal Fernando is the New York Times bestselling author of the Wind Dragons Motorcycle Club series, the Cursed Raven Motorcycle Club series, and the Maybe series, along with several other novels. She lives in Western Australia, where she is working on her next book.