In Archangel's Sun (Guild Hunter #13) by Nalini Singh, With the Cascade finally over, every archangel is now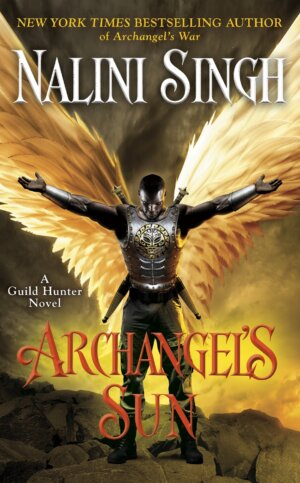 scrambling to rebuild their territories after the devastating war they fought and won. Some areas were hit harder than others, including New York, India, China, and Archangel Titus's territory of Africa. There is a huge number of reborn in his country, a parting gift from Lijuan and Charisemnon, terrorizing those mortals and vampires remaining. And it seems the more Titus and his army take down, the more the reborn keep appearing.
'How could she expect Titus to treat her as anything but a delicate, breakable butterfly when that was all she'd ever shown the world?'
In an effort to assist Titus, Lady Sharine, aka the Hummingbird, is sent to him–although what help the master artist (who lives in her own head) could be during the crisis, Titus isn't sure. Sharine does bring beauty, kindness and wisdom with her, though. And much to Titus's surprise, the once fragile woman who carried heartbreak and sadness for centuries in her soul is proving to have the heart of a warrior. Sharine is an asset near the battlefield as well as while investigating some shocking news regarding the reborns. She and Titus will soon find that even in the midst of darkness, there is light and joy to be found as they explore ways to save his people and with the intense connection they share.
'This, what lived between them, it was no game of power.
It was a thing deep and true and terrifying.'
Another epic and highly volatile installment in the Guild Hunter series, Archangel's Sun showered us with a fantastic blend of lighthearted banter, difficult decisions, and surprising new information in the post-Cascade world.
'Sharine had become his sun, the star around which he revolved.'
It's no secret that I'm a huge fan of Nalini Singh's writing. No matter the genre, I will read anything she releases. But there will always be a special place in my heart for her Guild Hunter series. (Although Psy-Changeling is also a fave! lol) Urban Fantasy–*well written* Urban Fantasy, I should say–is something I can't get enough of, so with the incredible world and characters Singh has created in this series, I can't wait for each book to come out.
In Archangel's Sun, the main characters were Archangel Titus of Africa and Lady Sharine, aka the Hummingbird. A seemingly unlikely couple. I know it was a rather controversial choice where fans have been clamoring for Illium's book for some time. But I thought it was the perfect time, in this being more of a transitional book, to see Illium's mom, Sharine, break free of the mental fog she had put herself in for her own protection, and find out how strong she truly was. Now, I will caution that her bantering with Titus, who was *all* alpha, seemed to cross the line a few times into being mean. Most of the time, though, it was comical and made me chuckle to see Sharine not cut the Archangel any slack when he came off as arrogant.
Titus surprised me, actually. I loved getting to know him, the way he ruled his territory with a strong hand but also with kindness, and how he was raised by strong women in his family–with his older sisters still giving him a hard time even as powerful as he was. So. Funny. And as we all know how wonderfully Singh describes each character in her stories, I have to say that this book's gorgeous cover is ripped right out of the pages and was exactly as I pictured Titus, right down to the gauntlets and his custom chest armor. *sigh* His and Sharine's romance was a slow burn but it was strong and oh so powerful. The ending was a little bit of a surprise. But I have a feeling we'll be seeing more of this important couple in future books.
With the ability to build worlds and convey emotional depth that most authors only dream of, Nalini Singh packed several twists and turns, as well as a feeling of community–and hope–in her ever-changing Guild Hunter world.
Book Info:

Publication: Published November 24th 2020 | Berkley | Guild Hunter #13
A horrifying secret rises in the aftermath of an archangelic war in New York Times bestselling author Nalini Singh's deadly and beautiful Guild Hunter world…
The Archangel of Death and the Archangel of Disease may be gone but their legacy of evil lives on—especially in Africa, where the shambling, rotting creatures called the reborn have gained a glimmer of vicious intelligence.
It is up to Titus, archangel of this vast continent, to stop the reborn from spreading across the world. Titus can't do it alone, but of the surviving powerful angels and archangels, large numbers are wounded, while the rest are fighting a surge of murderous vampires.
There is no one left…but the Hummingbird. Old, powerful, her mind long a broken kaleidoscope. Now, she must stand at Titus's side against a tide of death upon a discovery more chilling than any other. For the Archangel of Disease has left them one last terrible gift…

Related