In A Wright Christmas by K.A. Linde, Peyton Medina has become the successful ballerina she dreamed of when she left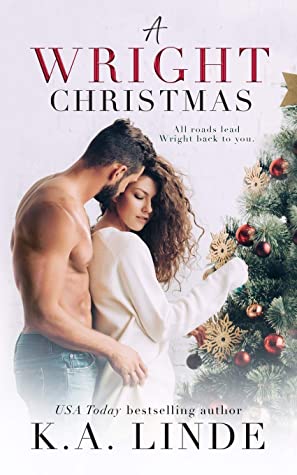 Lubbock, Texas for New York City a decade and a half ago. Although it hasn't really left much time for a social life. Which is good, considering she left her heart in Lubbock with her high school sweetheart, Isaac Donoghue. When Peyton arrives back in her hometown, ready to dance in the Nutcracker to help the local ballet company out, she wonders if she might see Isaac. Oh, boy, does she ever. Day one back in town and Peyton finds out a few important things: she seriously misses her family; Isaac is a single dad to an adorable five-year-old girl; and their connection is definitely still there and worth pursuing. Who knew a quick trip home would have her rethinking her entire future?
'How had so much time passed, and yet I felt exactly how I had all those years earlier? Isaac Donoghue completed me. And I hadn't known how empty I'd been living without him.'
Watching Peyton leave for New York so many years ago was one of the most difficult things Isaac has been through in a life filled with its fair share of tough times. But becoming a father to Aly, his beautiful little daughter, was worth the struggles. When Peyton suddenly reappears in Texas, albeit for a limited time, Isaac decides to spend whatever time they have together enjoying the holidays and each other. Only, it's not enough–he wants Peyton in his life for good. Her career in New York is a major stumbling block, but one Isaac hopes they can overcome so they can find a way to make it work this time around.
'I had never stopped thinking about her. I would have gone to the ends of the earth to be with her. But not at the expense of her happiness.
But now that we had a chance…there was nothing I wouldn't do to keep her in my arms.'
A Wright Christmas had the perfect amount of holiday cheer and sweet second chance romance goodness to make K.A. Linde's charming book a page-turner.
'We'd come so far from those awkward teenagers to this moment. It hadn't been the normal route to take, but we were here, and we were together. That was what mattered.'
This was set in the world of Linde's Wright series but it can totally stand on its own. You will get to see some of the previous couples and characters from other installments but rest assured there are no huge spoilers. There was a whole lot to like, though! We traveled back and forth from NYC to Lubbock, Texas a few times for this heartwarming story. But even being set in larger cities, it had a small town feel to it where our story was all wrapped up in Peyton and Isaac's families and the reunion between the couple that took them by surprise.
I really ended up adoring Isaac and Peyton–and Isaac's precocious five-year-old daughter Aly. Linde wrote them realistically, showing that they weren't perfect and that they still made mistakes even years later as adults. There was such a rich history between Peyton and Isaac. Their feelings were just as strong as when she left as a teenager for NYC about sixteen years prior. But they still ran into some of the same issues. I loved how they worked things out–that ending!!–even if Isaac or Peyton didn't communicate as well as they should have at times. That again speaks to how genuinely the characters were written.
Guaranteed to put a smile on your face and warm your heart, A Wright Christmas is a must for fans of feel good holiday-themed stories and reunion romance.
Book Info:

Publication: Published November 17th 2020 | Pub: K.A. Linde Inc. |
A new second chance single dad stand alone romance set in the world of the Wrights from USA Today bestselling author K.A. Linde…
At seventeen, I left Isaac Donoghue behind to become a professional ballerina.
When I return home to dance in the Nutcracker, I never expect to run into him. Let alone on my first day in town. I can't help but admire him in a crisp suit with his toned soccer body, chiseled jaw line, and all too familiar piercing green eyes. I thought nothing could surprise me more.
Until his five year old daughter runs out of the ballet studio.
I'm only in town for a month. I shouldn't get involved with anyone, especially the ex I've been pining after for years. Especially when he has a daughter to consider.
But where Isaac is concerned, I've never been able to stay away.
With the help of some Christmas magic, maybe we finally have a shot at our second chance.

Related