If you need a light romance that's filled with sweet cookie crumble, then Write Before Christmas by Julie Hammerle is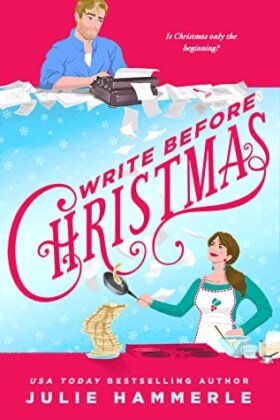 exactly what the doctor ordered.
Plagued by a nasty case of writers block and suffering from the pressures fame and fortune has bestowed him, recluse writer M.C Bradford escapes to a small resort town with the intent of meeting his stringent deadline. Except nothing is working. Remaining committed to his daily runs in the attempt to desperately find some inspiration, M. C., AKA Matt, soon discovers that small town or not, he is still easily recognised. Until of course, he meets Dani who is on the other end of the lead of her daughters dog Ralph Wiggum who attacks him in an aggressive display of licking and tail wagging. Embarrassed by Ralph's behaviour, Matt attempts to smooth the situation over and make Dani feel a little better by making a flirty reference to the Simpson's. Unfortunately though, Matt's nobel attempt falls flat on its face given Dani has been living under a pop culture rock for the past 20 years, which ironically, is music to Matt's ears given she has little to no clue who he is either.
Recently divorced, Dani is trying to create a new path for herself, having recently moved back home with her parents. What she quickly discovers however, is that her passion for cooking is where her heart is truly at. And it just so happens that Matt is in desperate need of a housekeeping cook else he may literally fade away to nothing whilst trying in vain to punch out his manuscript over the next 20 days. The duo instantly have chemistry, and naturally, Dani takes the opportunity at some work leading into the holiday period. In more ways that one, Dani with her gentle warm nature quickly transforms into Matt's muse and the two engage in a no-stringsish type fling that is bound to have complications given the nature of their working relationship and Matt's limited trust in others.
Atypically, our two love birds are in their mid 40s which contributed a layer of maturity wherein both characters are comfortable in their own skin and are refreshingly upfront about what it is they can offer. Similarly, the occasional clandestine tone, results from Matt needing to remain anonymous and well and truly out of the spotlight rather than the typical young forbidden love type scenario. There were clear parallel's between Matt and famous author George R R Martin and his Song of Ice and Fire series, in the sense that Matt's fame results from a blockbuster TV show based on his books, which in many ways share similar themes as Game of Thrones. Interestingly, this didn't detract from the narrative given that Dani has no concept of his fame and in many ways it is her ignorance that inspires Matt to figure out who he really is, and what it is he really wants.
The succinct writing and clear throughlines made for a sweet tea and biscuits read that was largely underpinned by wholesome family values. And whilst a tad Hallmarkish with only a peppering of very mild adult themes, it was cute and romantic enough to munch through in pursuit of a solid Happily Every After.
Book Info:

Publication: 30th November 2020 | Entangled |
You've probably heard of me.
Reclusive fantasy author turned famous when his series got developed into a mega TV hit.
Except now I'm way behind deadline, and the whole world is waiting to see what I'll write next.
The pressure is getting to me, and I. Can't. Write.
Cue: small town where people don't recognize me.
Cue: my assistant insisting on a personal chef to keep me fed and nothing more.
Cue: finding the first bit of inspiration I've felt in months whenever she's around…
Am I a walking cliche now, or what?
Dani Cooper seems to have her own hurdles to jump this holiday season. Newly divorced, looking for her next move. She's the first person who's seen me for me in way too long. And I see her, too–as way more than just an employee, a divorcee, a cook. She's becoming my muse…
But when my Christmas deadline hits, will it spell the end of us, too?

Related