In Season of Joy by Annie Rains, single father Granger Fields needs help watching his two young daughters while he's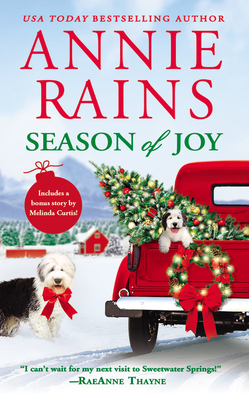 running the family's tree farm. Artist Joy Benson needs extra income to save up to lease an empty space she's been eyeing up to open an art gallery. She agrees to watch the girls for Granger while he's busy getting the tree farm ready for the holidays. When he realizes he won't have enough trees this season due to a fire at the farm, Joy comes up with a program to help generate more income.
Joy and Granger soon find themselves falling for one another, only Granger has been burned by his ex-wife, and Joy has been burned by her ex-fiancé. They both struggle with trust issues because of this, and when Granger's ex suddenly reappears after almost seven years, wanting to be a part of her daughters' lives again, both Granger and Joy are thrown for a loop. Will the spirit of the season help them find their way?
I loved Joy and Granger from the get-go. Joy's relationship with the girls was great, and she never hesitated to step in and be there for them, whether it was as an art teacher, a baby sitter, or a mother figure. Granger is a wonderful father, and it's clear he'll do anything to make them happy, with the exception of getting back together with his ex. He could have made that situation difficult for his ex, and he would have had every right, but he puts his hurt feelings aside to do what's best for his children. They always come first for him.
This is the sixth book in the series, but it can be read as a standalone. Some characters from previous books do pop in from time to time, but there's nothing that would leave new readers confused or feeling like they're missing anything.
Filled with wonderful characters, a charming and supportive town, and a festive holiday setting, Season of Joy is a great book to get you into the holiday spirit. I would recommend it to readers who enjoy books set during the holidays, charming romances, single father stories, and romances that have a strong focus on family.
Book Info:

Publication: October 13, 2020 | Forever | Sweetwater Springs #6
For single father Granger Fields, Christmas is his busiest and most profitable time of the year. But when a fire devastates the Merry Mountain Tree Farm, he fears the season won't be holly or jolly unless he can convince free spirit Joy Benson to care for his two rambunctious daughters. Yet while Granger wants to focus on saving his business, Joy seems determined to shake up his family's Christmas with her festive ideas and merry making.
Joy is counting down the days until she can open her own art gallery. Babysitting Abby and Willow will help her reach her goal, and when inspiration strikes, Joy convinces Granger that her craft classes can bring even more holiday cheer to the farm. As crowds return and Joy's creative side flourishes, life with Granger and his girls begins to feel like home. But with Christmas coming nearer, can Joy convince Granger to open his heart again? Or will their newfound happiness be as fleeting as the newly fallen snow?

Related