Love in the Aisles by Heather Van Fleet: Being in Sunrise Valley was supposed to just be temporary, a place for big time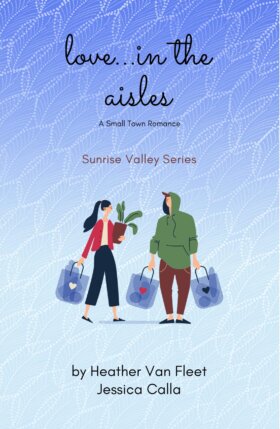 Hollywood actor Ian Tate to recover from his broken heart, the very last thing Ian was expecting was to falling in love with small town life and more especially the ditzy single mom Charlotte. After being left at the alter Ian finds himself heading to the quaint small southern town of Sunrise Valley, where his mother and stepfather live, to decompress and mend his broken heart out of the spotlight of Hollywood. After all no one would believe that the Ian Tate would be working as a bag packer at a small town grocery store.
"Oh God… that Cupid's arrow stabbed me in the heart and made me bleed with swoon."
Small town living can have its perks, like everyone knows everyone but it also had its flaws like everyone knows everyone! If anyone knew both sides of this it would be Charlotte, not only had she shot herself into small town stardom by marrying the hometown hero but managed to be hated by all the golden oldies. You see according to the old gals of Sunrise Valley Charlotte was a homewrecker, in their eyes she had come between the hometown hero and the small town golden girl, and worse still Char got pregnant! What the old gals didn't know was that golden boy Jonah wasn't as perfect as they all thought, nevertheless things only got worse for Char after his death. Wanting to cut down on all interactions with Ruby Pearl the queen of the meanies Char finds herself hiding out in the booze aisle on a Sunday of all days with her son, only to be found by the new red headed freckled hottie bag packer. What starts as a super awkward encounter soon turns into the cutest love story the town has ever seen, but the question is how will the small town of Sunrise Valley handle being thrown into the Hollywood limelight?
"Her smile lit up my world, and I found myself staring at it again. Her cheeks were as pink as her lips."
LOVED! I loved reading every single second of this super cute small town romance! This was the perfect read, it checked so many boxes and left me feeling all warm and fuzzy inside. I absolutely adored Charlotte, not only did she have a rough start in life but then she got dealt a bad hand in the husband department but she still powered through it so that her little boy never went without and always had a home. My only hang up with Char was I wished she stood up to the GOLs sooner. I loved the cute relationship that she had with sister and that they formed their own little unit. Now on to our hottie Ian, I found it super cute that he was getting advice from his mum and stepdad on courting Char. It was so easy to get absorbed into Char and Ian's weird and clumsy encounters and watch them fumble in these new waters.
"I know it's crazy. We've only known each other for a couple for weeks, but God… you're all I think about. You're in me, sweetness. Buried so deep I couldn't get you out if I tried. And believe me, I don't want to try."
This is one book I would definitely recommend all romcom lovers should read, you will instantly love both main characters as well as their support systems. Love In The Aisles is the perfect mix of insta love and a bit of drama to keep everyone happy with a story that flows perfectly. I do hope that we get to see what happens in Laila's story soon.
Book Info:

Publication: October 13th 2020 | Tenacious Books Publishing | Sunrise Valley #1
On a scale from one to ten on the epic failure charts, Charlotte Dawson's day just passed an eleven.
The last thing Charlotte wants to do is go to the supermarket, but with a four-year-old to feed, she doesn't have a choice. Just when she thinks she's free and clear of marketplace drama, Charlotte finds herself in the throes of a hide-and-seek game with the nosiest woman in town. And if that wasn't enough to add to her bad day, the hot new bag guy catches her hiding out…in the liquor section…on a Sunday in the South. But she can't formulate the words to tell him to get lost. In fact, she can't speak at all once she gazes into those hazel eyes.
Having been ditched at the altar by his long-term girlfriend, Hollywood sensation Ian 'Cleary' Tate escapes to Sunrise Valley for one reason—peace. Serving as a temporary apprentice under his stepfather at Adler's Market is the perfect cover—nothing says redefining his life like a little manual labor. Until he runs into a problem…Charlotte Dawson, the widow of the town's biggest hero. He in no way expected to develop a fascination with the bumbling, yet refreshing, young mom, who just so happens to have the grace of a one-legged chimpanzee.
In a series of unexpected encounters between the aisles of the supermarket and the gossip-filled streets of Sunrise Valley, Charlotte and Ian get to know one another, Georgia style—all under the watchful eyes of a group of meddling old women known as the GOLs (Gossiping Old Ladies).
It's not easy falling in love after heartbreak, but Ian and Charlotte have a chance at exactly that…if Ian's secret Hollywood fame and Charlotte's former life don't get in the way first

Related