Christmas in Angel Harbor by Jeannie Moon: Jane Fallon had big plans to be on digs in exotic locations around the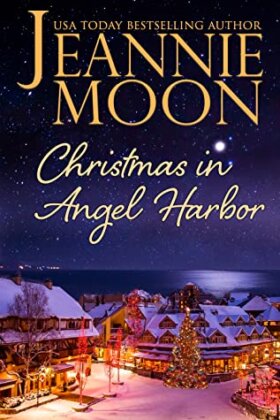 world after college. The death of her father changed those plans and she took over his bookstore in the village of Angel Harbor. Now, many years later, Jane's searches are for just the right book or gift for her customers. She does love her friends and family, but her daughter is about to leave for college and her mother wants to retire and move to a warmer climate.
Dan Gallo used to hang out in Angel Harbor Books as a teenager and he and Jane were very close. After college, he left Angel Harbor behind and eventually became a bestselling author of thrillers.
Twenty-five years later, Dan decides to finally come back to visit some family for the holidays. He soon runs into Jane at her bookstore. After being out of contact for so long, can the two of them rekindle their friendship or something more?
I absolutely loved that the two main character were fifty! Love stories can happen at any age. Dan has been on his own for so long, but the author shows us he still wants to get in touch with the good memories from the past in both his writing and how he goes into the future.
Jane is dealing with many changes all at one time so it is understandable that she is hesitant about getting involved with Dan again. The author shows how maturity can help in our lives, but we can still cling to a hope for a soulmate.
Jane's daughter is an awesome secondary character. The author shows her talent and her insight into her mother.
The small village setting is just perfect with people who care about their neighbor. I have never been to any part of Long Island, but pictured most areas as crowded with crazy traffic.
In this difficult year of 2020, it is wonderful to have such a beautiful Christmas story that shows peace and love still exist.
 
Book Info:

Publication: October 29, 2020 | Tule Publishing |
This Christmas, she's hoping for a miracle…
Twenty-five years ago, Jane Fallon put her rising career on hold to take over her family's bookstore after the death of her father. Throughout the years, she's transformed Angel Harbor Books into a place of comfort for her and her daughter, but when her landlord announces the building has been sold, Jane is faced with sudden uncertainty. If the bookstore is gone, what will she do?
As a young man, Dan Gallo couldn't get out of Angel Harbor fast enough. Now a best-selling novelist, Dan returns home after a tragedy derails his career. His first stop is his favorite teenage hangout—the local bookstore. It's almost exactly how he remembers it. But the girl who once worked there is now a beautiful woman whose smarts and spirit inspire him to write again, and open his heart to new possibilities.
With her world threatening to fall apart, Dan hopes that with the help of the town—and some Christmas magic—he can get Jane to see how important she is to the people of Angel Harbor…and him. (less)

Related