Holding Out for Christmas by Janet Dailey: There's lots of Christmas spirit in this story.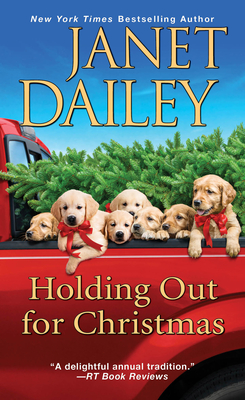 Megan Carson is home in Branding Iron, Texas to help out with her family. Her mother suffers from Multiple Sclerosis and is confined to a wheelchair and her younger brother has Down's Syndrome. It's Christmas time and there's lots to do so Megan takes off early from her job teaching kindergarten in Nashville to help out.
Megan has dreamed of becoming a Country and Western star and does some singing with local country and western bands. She has her doubts these days about whether or not she is ever going to make it big. So she has lots to think about. Lately she has been distracted by her attraction to former champion bull rider Conner Branch. Should she stay in Branding Iron or return to Nashville?
Conner Branch sowed some crazy wild oats when he was on the rodeo circuit. An injury when he was thrown from a bull ended his rodeo career and his wild ways. Now he is settled down and enjoying being a co-owner of Christmas Tree Ranch. It's getting close to Christmas and he can't keep his mind off of the singer Lacy Leatherwood who he saw on stage last year at the Cowboy Christmas Ball. He sure hopes she will be back again and he can meet her. In the meantime he does meet Megan Carson when her car slides off the road in a snowstorm and he comes to her rescue. There's something special about Megan and he wants to get to know her better. Maybe she is "the one."
The hero, Conner Branch is very busy cutting down trees for sale in Branding Iron, Texas and on the ranch. There are sleigh rides, hot chocolate and toasting marshmallows over a cozy bonfire. That should get the reader into the Christmas spirit. Then there's the Christmas parade and the Cowboy Christmas Ball. The Ball is where Conner first set eyes on the heroine in this story Megan Carson but Conner didn't know at that time that it was Megan. Megan was on stage singing and had the stage name Lacy Leatherwood. This throws some complications into Megan and Conner's relationship. I enjoyed reading how they both came to realize that honesty and trust are important in a relationship. This was a fun Christmas romance to read.
 
Book Info:

Publication: September 29th 2020 | Zebra |
New York Times bestselling author Janet Dailey combines the beloved holiday traditions of small-town Branding Iron, Texas, with sparkling romance . . .
She's all he wants for Christmas. Maybe even forever . . .
Conner Branch still hasn't stopped thinking about the sultry singer he spotted on stage during last year's Cowboy Christmas Ball. So imagine his surprise when he discovers the demure kindergarten teacher who comes home for the holidays to Branding Iron, Texas, is the very same woman. And once he's up close and personal with the mesmerizing Megan, he's downright determined to keep her by his side for good . . .
If only Conner Branch were simply the star struck cowboy she once believed him to be, Megan wouldn't have to worry about losing everything to the rugged–and wildly romantic–rancher. With Christmas in the air, it's a little too easy to imagine spending the holidays, not to mention her whole life, wrapped in Conner's loving arms. But this songstress has hopes for a big career back in Nashville. And no little holiday romance will ever get in the way of that. So what's a woman to do when she finds herself facing down a love as bold and exciting as Texas itself?
"The story is full of Christmas spirit . . . Those looking for a little pre-holiday pick-me-up will find plenty to enjoy here."
–RT Book Reviews on Just a Little Christmas

Related